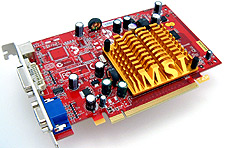 To be frank, PC gaming is expensive and anyone who says you can build a fast gaming rig for "cheap" is not telling you the whole truth. Those of you who are thinking about getting into gaming can take your first baby steps with something like the MSI NX6200TC-TD32E though. It can't play at high resolutions or utilize AA/AF, but it does allow users to experience all the DirectX 9 and SM 3.0 eye-candy, something that would have been unthinkable only a generation ago.
With a retail price of just $92 CDN ($73 US), the MSI NX6200TC-TD32E is the perfect videocard for beginners and does not require a large monetary investment. Despite the low price, MSI does a good job at including pretty much all the necessary hardware, allowing users to take advantage of the TV/Component output and dual-monitor capabilities of the card.
The GeForce 6200 with TurboCache is the first video core on the market that can store data on system memory and use it as a frame buffer for graphics. While it's not as fast as onboard local memory, it does help save costs and we haven't seen competent entry level cards this cheap in a long time.
Keeping in mind the MSI's NX6200TC-TD32E's intended audience, I'd say the card performed pretty well. In most of the benchmarks we threw at it, the card provided acceptable framerates at 1024x768, meaning that lower resolutions will perform better still. Overclocking gave the NX6200TC-TD32E a decent boost in performance, most noticeably in Doom 3 and UT2003 at low resolutions. Because of its design, AA and AF is simply too much for a GeForce 6200TC card to handle.
It's nice to see nVIDIA being innovative instead of simply following the status quo. The MSI NX6200TC-TD32E is a great first card for those looking for a way to get into PC gaming without a major investment.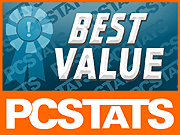 Find out about this and many other reviews by joining the Weekly PCstats.com Newsletter today! Catch all of PCstats latest hardware reviews right here.
Related Articles
Here are a few other articles that you might enjoy as well...
1. PowerColor Bravo X700 Videocard Review
2. MSI NX6600GT-VTD128SP Videocard Review
3. Asus Extreme N6600TOP/TD/128M/A Videocard Review
4. MSI NX6800GT-T2D256E Geforce 6800GT Videocard Review
5. Gigabyte GV-RX80L256V Radeon X800XL Videocard Review