What sets the GeForce 6200 with Turbo Cache apart from other videocards its ability to use system memory as a dynamic "local" frame buffer. The NX6200TC-TD32E test sample uses 32MB of onboard memory while the rest of the data is placed into up to 96MB of dynamically reserved system memory. This is possible through the new MMU (Memory Management Unit) that allows the GPU to read and write data to the PC's main memory.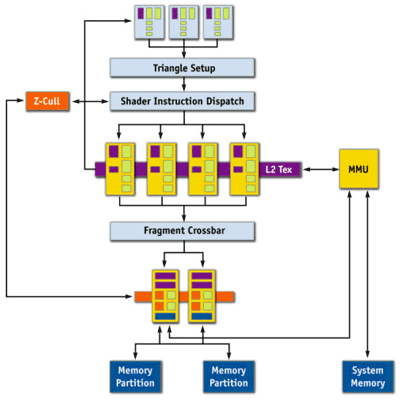 Along with the Forceware drivers, the TurboCache Manager (TCM for short) is able to place colour, texture and Z-Buffer data in system memory. The TCM dynamically adjusts how much system memory is reserved for videocard use based on demand; once the game or 3D application has been closed, RAM allocated to the videocard is once again available to the rest of the system. This means that unlike integrated video cards that snatch a certain amount of system memory, a GeForce 6200 TC videocard does not permanently slow down the system. Note that nVIDIA recommends at least 512MB of system memory be installed, which could be a factor in the 6200 TC's adoption as an entry level video chipset.
The biggest "pro" for nVIDIA and its accompanying manufacturers is that TurboCache reduces the need for memory on the actual videocard, saving on costs.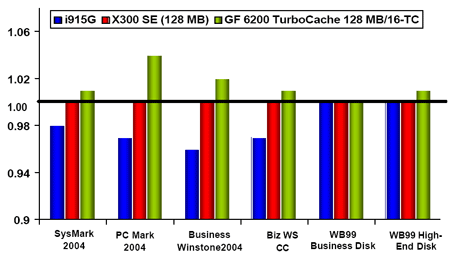 If you'd like to read up more on Turbo Cache, nVIDIA has a great PDF on its technology right here.

Overclocking Results:
stock
overclocked
gpu (core) speed:
350MHz
428MHz
Memory Speed:
700MHz
829MHz
Considering the NX6200TC-TD32E is a entry level solution, I didn't have high hopes in terms of overclocking. Starting with the core which is clocked at 350 MHz by default, we raised it only a few MHz at a time. It seems like the GeForce 6200 GPU is up to the overclocking challenge and we were able to push the card as high as 428 MHz before RivaTuner complained about the core not passing its test.
The memory is clocked at 700 MHz by default and it turned out to be a pretty good overclocker too, hitting 829 MHz!

PCStats Test System Specs:
processor:

amd athlon64 4000+

clock speed:
12 x 200 mhz = 2.4 ghz
motherboards:

dfi lanparty nf4 sli-dr (nf4-sli)
gigabyte ga-k8nsnxp-939 (nf3 ultra)

videocard:

msi rx800xt-vtd256e
ati radeon x800 xl
gigabyte gv-rx80l256v
powercolor x700 pro
powercolor bravo x700
msi nx6800gt-t2d256e
albatron trinity geforce 6600gt agp
msi nx6600gt-td128
albatron trinity pc6600
asus extreme n6600top/td/128m/a
gigabyte gv-3d1 (single mode)
gigabyte gv-3d1 (sli mode)
msi nx6600gt-td128e (single mode)
msi nx6600gt-td128e (sli mode)
msi nx6200tc-td32e

memory:

2x 512mb mushkin pc3200 l2 v2

hard drive:
74gb wd raptor 10k rpm sata hdd
cdrom:
aopen 52x combo
powersupply:
seasonic super tornado 400w
software setup

windowsxp build 2600
nforce
catalyst 4.12
detonator 66.93

benchmarks

3dmark2001se
3dmark05
codecreatures
aquamark
gun metal 2
x2 the threat
ut2003
doom3
the agp and pci-e systems use a different motherboard but results are shown for reference.