Economical videocards of today allow users to experience all the same DirectX 9 eye candy that higher end models offer. This is quite a change from the past when both ATi and nVIDIA removed important features out of their low-end graphics processors in an attempt to cut costs. Times have changed for the better, and hopefully this will bring the world of full-fledged PC gaming to more consumers.
The class of entry-level nVidia GeForce 6200 TC (Turbo Cache) graphics processors work in a similar fashion to an integrated videocard. For the first time in history, the stand-alone videocard uses system memory as its own. This might sound like a bad thing.... since of course desktop computer memory is much slower than videocard memory, but it allows nVIDIA to keep the price of the videocard down. Most games do not need a dedicated 512MB of system memory to run!
In this review, PCSTATS will be testing MSI's NX6200TC-TD32E PCI Express videocard. MSI is one of nVidia's largest manufacturing partners these days, so it makes sense that the company release a 6200 TC-based card for the value markets.
The MSI NX6200TC-TD32E is based on the GeForce 6200 Turbo Cache core and actually includes 32MB of onboard memory in addition to borrowing system memory when necessary. The card supports dual analog monitors and includes the necessary DVI-to-analog converter. The videocard also supports S-Video and Component output which should make it useful for HTPC use.

MSI NX6200TC-TD32E




Includes:

Quick Installation Guide, Driver CD, S-Video to S-Video cable, Component out cable, DVI to analog converter
The MSI NX6200TC-TD32E videocard is based on the reference nVIDIA design and is entirely passively cooled. I hope you have good airflow in your case though, because the heatsink does get quite toasty during operation. There are a total of two Samsung BGA DRAM modules on the videocard for 32MB of video memory. While that might not sound like a lot compared to other modern videocards, it's perfectly adequate for 2D desktop use and is a large enough frame buffer for low resolution 3D apps.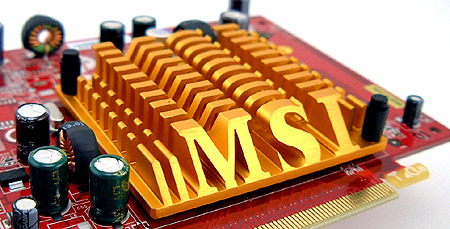 With a retail price of under $100 CDN, I was surprised to see the MSI NX6200TC-TD32E comes with anything at all!
No additional software is included with the videocard, but we're definitely happy to see MSI include the extra hardware. Those of you who want to hook up your computer to a TV can do so without problems and this makes the NX6200TC-TD32E a good HTPC videocard. The main component-output TV out cable is colour coordinated and MSI takes things one step further by actually labelling each individual strand. Very nice!
There's little doubt that the NX6200TC-TD32E is aimed directly at the entry level market, so it was nice to see that 2D image quality was good. The card is also capable of running dual analog monitors, or an LCD and a CRT.

We would have liked to see an actual users manual accompany the package. Having it on CD doesn't help very much when your computer is in pieces... The quick installation guide is a bit thin on information and does not answer any questions should you have problems.