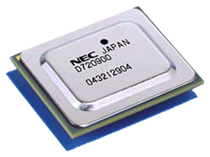 The AMB (Advanced Memory Buffer) chip is key to the performance of FB-DIMM memory.
The AMB chip in each FB-DIMM module is linked to the chip in the next module via a bi-directional serial interface. The AMB in the first memory module connects to the memory controller on the motherboard by way of the same high-speed serial interface. In essence, the AMB chips form a data highway that starts at the memory controller and passes through each module in turn. The DDR2 memory DRAM chips on each FB-DIMM module load data onto this highway via the AMB chip on the same module.
When multiple FB-DIMM memory modules occupy the same channel, each AMB acts as a repeater for the modules 'behind' it in the signal path. Data from the farthest modules is repeated by each closer module and daisy-chained with new data. The AMB closest to the memory controller hosts the primary connection and transfers all data to and from the rest of the system.
Fully buffered?
Like registered memory, FB-DIMM modules are buffered; this allows multiple DIMMs to precisely co-ordinate data transfer for maximum stability. Conventional registered memory only buffers the address lines, while FB-DIMM modules buffer both address and data lines. What does this mean? It means that every bit of data read or written from FB-DIMM memory is precisely coordinated by the memory controller and the AMB (Advanced Memory Buffer) chip on each module.
Potential Speed Advantages over DDR2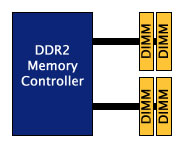 FB-DIMM has several built-in advantages over contemporary memory technology which should enable it to transfer data faster standard server DDR2 RAM, even though it is fully buffered and performs error checking.
The bi-directional serial interface can send and receive data simultaneously, which instantly eliminates the read-to-write latency associated with conventional memory. The links themselves have a bandwidth of 3.2GB/s, 4.0GB/s or 4.8GB/s depending on the type of DDR2 memory being used in the FB-DIMM modules (DDR2-533, 667 or 800).
Since the serial links have a lower pin-count than conventional memory buses and better data handling abilities, more channels can be implemented in a single memory controller. In entry-level servers and high-end desktops, four FB-DIMM modules, each with a channel of their own will have a considerable bandwidth advantage over a conventional dual-channel memory controller supporting two DDR2 DIMMS on each channel.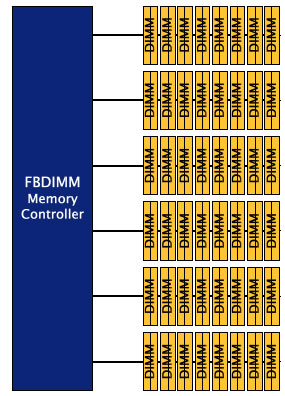 On the other hand, the initial latency of serial memory is said to be higher than that of traditional memory setups, though this disadvantage disappears with continuous transfers of data, where the inherently faster speed of the serial memory interface and its bi-directional nature come out on top.
Potential Capacity advantages over DDR2
Capacity is where FB-DIMM really does seem to have a clear-cut advantage over conventional memory. Since the 32-bit server should be nothing but a memory by next year, the focus for performance is likely to shift a bit more towards the memory as opposed to the processor(s) in any given server. Where previously there was a hard 4GB memory limit which required some creative (and performance sapping) memory addressing tricks to overcome, modern 64-bit processors can potentially address effectively unlimited amounts of memory at full speed.
Currently, FB-DIMM technology supports up to six channels of eight dual-layer FB-DIMM modules each. This gives a maximum of 192GB of memory addressed by a single memory controller!
Error checking
Similar to ECC (Error Checking and Correcting) memory, FB-DIMM modules perform error checking and correction as well as cyclic redundancy checks on data passing through them, thanks again to the AMB chip. The AMBs in each memory channel co-ordinate their error checking efforts so that if a correction or retry is necessary, all the modules stay in sync.