FB-DIMM modules are currently being produced in PC2-4300, PC2-5300, and PC2-6400 speeds with transmission rates as follows. FB-DIMM memory modules fit into 240-pin DIMM sockets, and draw 1.8V power. Future versions like FB-DIMM-2 see the same 240-pin package teamed up with DDR3 DRAM, and drawing just 1.5V power.
PC2-4300 (DDR2-533 SDRAM); Clock Speed: 133MHz, Data Rate: 532MHz, Through-put 4300MB/s
PC2-5300 (DDR2-667 SDRAM); Clock Speed: 167MHz, Data Rate: 667MHz, Through-put 5300MB/s
PC2-6400 (DDR2-800 SDRAM); Clock Speed: 200MHz, Data Rate: 800MHz, Through-put 6400MB/s
The future of FB-DIMM memory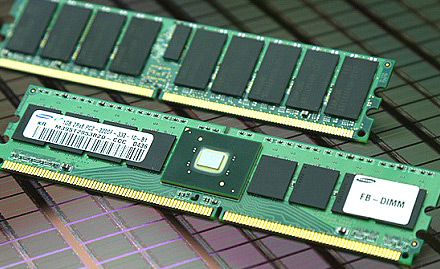 In the near future, expect FB-DIMM memory to appear in Intel-based high-end servers first, probably in the fourth quarter of 2005. Intel is already manufacturing AMB chips, while Micron, Kingston and other memory manufacturers like Infineon are churning out as yet unofficial FB-DIMM memory. The JEDEC standards commission is currently working on the official FB-DIMM specifications, but it's unlikely that there will be any major changes. The technology's debut will probably be with Intel's upcoming 'Blackford' server chipset which also supports dual-core 64-bit capable Xeon processors.
While FB-DIMM technology looks to remain in the server world for the near future, it's hard to imagine the most basic and attractive component of the technology - the high-speed serial interface - not becoming a standard soon. As DDR2 speeds ramp up and processor capabilities increase, it's quite possible that the parallel memory bus will become a bottleneck for desktop system performance.
FB-DIMM memory has proven that you can incorporate a serial interface without changing the basic nature of DDR2 memory, meaning that the technology just needs a memory controller capable of supporting it. When Intel starts building memory controllers into its desktop processors (as the company will have to eventually do) look for these to feature a serial interface.
AMD's road to serial memory support might be a little bumpier, since the company's Athlon 64 and Opteron processors already feature an integrated parallel memory controller. AMD will move to DDR2 (or possibly DDR3) eventually though, and depending on the state of the memory art at that point, a change in memory controller design would be likely. If Intel makes a splash with 64-bit Xeon/FB-DIMM systems, look for AMD to make a move sooner with its Opteron line to recoup a technological advantage in the server field.
Find out about this and many other reviews by joining the Weekly PCstats.com Newsletter today! Catch all of PCstats latest hardware reviews right here.
Related Articles
Here are a few other articles that you might enjoy as well...
Introduction to DDR-2: The DDR Memory Replacement
Introduction to PCI-Express: the AGP8X Replacement
AMD Athlon64 and AMD's 64-bit technology
The Technology Behind Dual Core CPUs
BTX Form Factor Exposed - A New Way of Building PC