What was old is new again. Serial data links, once reserved for only the slowest exterior connections and least-demanding peripherals, have proven to be the future of computer design. PCI Express, Hypertransport and Serial ATA have each revolutionized the way that computer components connect and communicate with each other, paving the way for today's ultra-fast desktops and servers. Up until just recently though, one of the most essential parts of any computer has remained stubbornly parallel in its implementation; computer memory, or RAM as it also called.
FB-DIMM memory (short for Fully-Buffered Dual Inline Memory Module) is a variant of standard DDR2 memory designed for server applications where both large amounts of memory and memory co-ordination and accuracy at high speeds are essential.
FB-DIMM memory combines the high-speed internal architecture of DDR2 memory with a brand-new point-to-point serial memory interface which links each FB-DIMM module together in a chain.
The FB-DIMM serial memory interface

Conventional memory modules use a parallel 'stub' connection in which each module in a memory channel has a separate set of links to that channel and the memory controller. With high concentrations of memory, these connections can overload the capacity of the memory controller, causing errors and delays in the flow of data.

This problem tends to negate the benefit of higher speed memory, since the faster data floods the channel, the more errors occur. What this leads to is a choice between a small amount of fast memory or a large amount of slower, more accurate memory, neither choice being ideal for modern server applications.

The technology supports up to six channels of eight double-sided FB-DIMM modules each, or a maximum 192GB of RAM.

FB-DIMM memory uses a bi-directional serial memory bus which passes through each memory module, instead of having a single bus which each module dumps its data onto. Similar to PCI Express and other modern serial technologies, FB-DIMM transmits memory data in packets, precisely controlled by the AMB (Advanced Memory Buffer) chips built into each FB-DIMM module.

Each FB-DIMM channel can contain up to eight FB-DIMM modules, and current architecture allows for up to six channels per memory controller. Since there is only one source of data as far as the memory controller is concerned (the FB-DIMM module closest to the controller in each FB-DIMM channel), and all data arrives in orderly packets, errors and signal interference should no longer be issues. This being the case, servers should reap the full benefit of high-speed DDR2 memory while still retaining access to the massive amounts of memory needed for complex applications such as databases.

A conventional memory controller requires 240 dedicated trace lines per channel but FB-DIMM requires only 70, reducing the complexity of the circuit layout and making it easier to add additional FB-DIMM channels. This is similar to the simplifying effect that Hypertransport and PCI Express have had on motherboard design.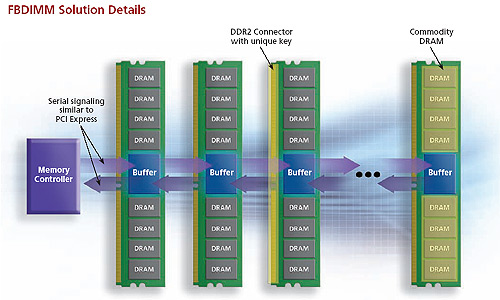 With conventional memory, the higher the memory density rises, the more timing and signal degradation errors occur. FB-DIMM's serial bus technology negates this problem by providing a single data path from all modules on a given channel and coordinating the data by means of the AMB chips built into each FB-DIMM memory module.