Here at PCstats, we tend to judge power supplies by several important categories. Power efficiency and voltage accuracy are obvious measures of a power supply's quality, but we use other more subjective methods too. One of the first and most important is weight. It's a generalization, but a true one in our experience, that quality power supplies just weigh more.... Whether its the quality of the components or the size of the heatsinks, a power supply with a good heft to it always creates a positive first impression in this lab.
If measured solely by these criteria, the PC Power and Cooling Turbo-Cool 510 Express/SLI powersupply might be judged as one of the best PSUs to ever cross our test bench. The understated appearance of this black box belies its true heft!
Of course, we'll still subject the Turbo-Cool 510 Express/SLI to the rest of the cursory tests too, but this no-nonsense black 510Watt (650Watt peak) power supply, which retails for about $265CN ($215USD), created a positive first impression with more than just its weight. The woven sleeved cables eminating from this PSU include no less than (6) SATA HDD connectors and (2) six pin 12V connectors for dual SLI videocards! This means no more converters that tie up four molex connectors or independent lines.

PC Power and Cooling Turbo-Cool 510 SLI Power Supply

Includes:

Instruction sheet, power cord, 24-to-20 pin ATX connector, screws.
The Turbo-Cool 510 Express/SLI's main selling point is its suitability for SLI videocard systems. This starts with the pair of 12V six-pin video card power connectors on the unit and ends with the fact that the power supply is one of only four officially recommended by nVidia for use with SLI videocard computer systems.
The Turbo-Cool 510 Express/SLI uses the newer 24-pin ATX connector to supply power to the motherboard, but PC Power and Cooling includes an adaptor to convert this to the older 20-pin ATX standard when needed. The only other items included in the plain cardboard box are four screws, a small installation leaflet and a pleasingly thick 14 gauge (14AWGx3C) AC power cable. Standard powersupplies commonly use smaller 18 gauge (18AWG) wires in the AC power cord.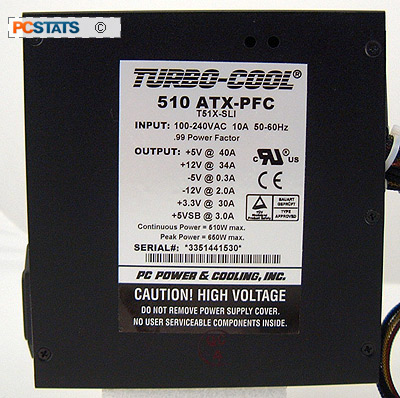 According to the label, the +3.3V line can deliver up to 30 Amps while the 5V rail will of 40A. The 12V rail can deliver 34A which is important since the processor runs off this line.
Unlike most 'thrill-them-with-high-wattage-numbers' power supply companies, PC Power and Cooling lists its power ratings by the sustained wattage capability, not the peak value.
While the 510W sustained of the Turbo-Cool 510 Express/SLI might appear to be pedestrian, it can handle up to 650W at peak, and that is drastically even more than enough for an overclocked SLI desktop PC.
The Turbo-Cool 510 Express/SLI powersupply uses Active Power Factor Correction (A-PFC). A-PFC circuitry eliminates the need for an external voltage level switch (115/230) on the powersupply since it works with a wider voltage range (115VAC of North America to 230VAC of Europe) by default than PFC-based powersupplies.
More importantly, Active PFC allows a power supply to convert wall AC voltage to Direct Current much more efficiently (99% efficient in this case), massively reducing the amount of electricity wasted and the degree of heat generated by the PSU in the process. Active PFC tends to also be a sign of better quality power delivery, as you'll see to a limited extent in a moment. To really illustrate the quality of power, an oscilloscope is required to measure jitter on all three power rails, but unfortunately that piece of equipment is not in our tool box.
Like other PC Power and Cooling PSUs PCSTATS has tested, the Turbo-Cool 510 Express/SLI features a row of four potentiometers inside the case (made semi-accessible by two holes in the top of the power supply). These pots can be adjusted to tweak the voltage to the various rails. For the purposes of this review, we left them untouched, but enthusiasts will welcome this feature.