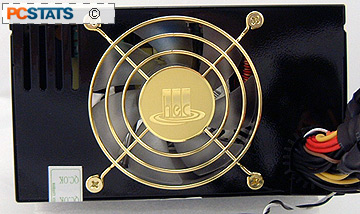 The HEC Ace Power 580UB is quite pleasing to look at. Its glossy black steel casing is smooth and reflective, and gold fan grills bearing the HEC logo cover both 80mm vent fans. The fans themselves are of the transparent variety, and glow a pleasing blue colour from the four LEDs mounted around their housings. Pretty.
We would have preferred to see a 120mm fan set in the bottom of the power supply as the intake rather than an 80mm fan in the rear, since it would provide better ventilation. With two active fans, air movement will still be good though.
The HEC Ace Power 580UB's cables are wrapped in black plastic mesh sleeves which keep them well separated, avoiding tangles. In addition to four SATA power connectors (split over two wires) and the two 12V video connectors mentioned earlier, the PSU includes eight 5V Molex connectors (split over three wires) and two floppy drive power connectors as well as the 24pin and dual 4pin motherboard power connectors.
The 4-pin 12V connectors are notable because they can be joined together to make an 8-pin connection or split to be used separately. A three-pin header cable allows a connection to the motherboard for thermal monitoring and fan throttling. The 5V Molex connectors use the easy-grip heads that we're beginning to see from some companies. This is a great upgrade as it makes them much easier to connect and remove.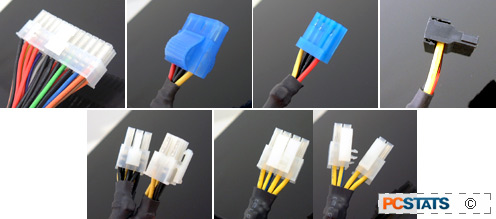 Inside, the HEC Ace Power 580UB is unremarkable but cleanly manufactured and nicely laid out. Only a few blobs of white glue mar the otherwise pristine workmanship here. a cable tie is used to keep the mess to a minimum.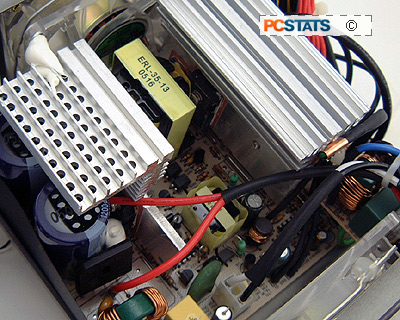 The twin 80mm fans used by the HEC Ace Power 580UB for venting are practically silent, meaning that this PSU is not going to add to the noise of your desktop.