Everyone knows Moore's law, that the number of transistors in a given processor or chip will double every two years. Another less well-known computing constant is starting to become a factor in modern desktops though; increasing power requirements. Let's call it Watt's law? No that's already taken. How about the 'blink factor', named after the unfortunate habit that underpowered desktop computers have of suddenly turning themselves off at inopportune moments.
There's nothing like wading through 2 hours worth of Guildwars flora and fauna ready in search of the one quest that has eluded you so far, only to see your monitor turn black, the silence of a stopped computer ringing in your ears... Yes I am speaking from personal experience.
Modern computers with high-end videocards and 64-bit processors generally require more than 300W of power. ATI and nVidia state that their latest GPUs need around 400 watts to function effectively, and that's excluding the rest of the system components. If you go the SLI route, your system will be even more of a power hog.
It used to be that 300Watts was all any desktop system needed, but those days are long gone. With this fact in mind, we've been looking at a lot of 400Watt+ power supplies lately. The latest to cross our desk is the HEC Ace Power 580UB 580Watt power supply.

HEC Ace Power 580UB 580Watt power supply

Includes:

instruction booklet, Power Cord, GES adaptor, power cable, screws, velcro ties.
This all-black dual-fan PSU pumps out a maximum output (peak) of 580Watts, which should be quite sufficient for SLI and just about anything else you can throw at it. The power supply uses two discrete +12V rails to separate motherboard and videocard power flow. The Ace Power 580U also features a large array of connectors, including dual 6-pin connections for powering a set of SLI videocards. Obviously, the HEC Ace Power 580UB is designed with the possibility of an SLI system in mind, and would be quite suitable for that role.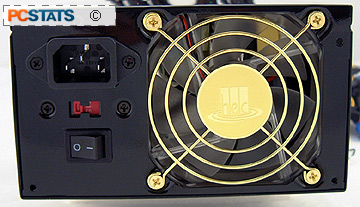 The unit comes wrapped in a small cloth bag, along with an assortment of items; a standard power cable, screws, velcro cable tie, an instruction booklet and an AMD GES 12V adaptor for Opteron servers.
According to its label and instruction booklet, the HEC Ace Power 580UB puts out 32A on the +3.3V line, 38A on the +5V and 18A and 17A respectively on the two +12V rails. The PSU uses a 24-pin ATX connector, but the four extra pins can be separated from the main connector, providing compatibility with older 20-pin style ATX motherboards.
The two 80mm fans are thermally throttled automatically through a motherboard connector and no manual fan controller is present. The HEC Ace Power 580UB does not use Active PFC (Power Factor Correction).