Power Jitter Observations
Voltage jitter is read by accessing the power options displayed in the motherboard BIOS, with the system obviously in an unloaded state. *All voltages were read from the Motherboard BIOS of a ChainTech Zenith VNF4 Ultra motherboard.
| Listed Voltages | Lower Voltage | Upper Voltage | Jitter |
| --- | --- | --- | --- |
| +3.3V | 3.26V | 3.28v | 0.02v |
| +5.0V | 4.99v | 5.02v | 0.03v |
| +12V | 11.84V | 11.90V | 0.06v |
| -12V | -11.78V | -11.78V | 0.00v |
| -5.0V | -5.01v | -5.01v | 0.00v |
| +5.0Vsb | 5.00v | 5.00v | 0.00v |
Good solid performance from the AcePower 580UB here. The +12V line might be a tad low, but it's generally solid and the +5V line numbers are excellent. Looks like you can rely on this HEC power supply to deliver stable and accurate power levels.
When looking at the Seasonic Power Supply test results we see two values, wattage and volt-amps. Since it might not be clear what they measure, here's a brief overview.
The volt-amp (VA) value is how much real power is being consumed by the power supply being tested to provide the wattage (W) value. The higher the VA value is, the more electricity is being used by the power supply. Because no electrical device is 100% efficient, there will always be some loss when converting AC to DC. The closer the volt-amps and wattage figures are to each other, the more efficient a power supply is. This is called the Power Factor: wattage / volt-amps = PF.
Since we're testing with a 120W dummy load, the load on the power supply (wattage) should be as close to this figure as possible. Anything above this load in apparent power describes the overhead and wasted energy (given off as heat) for the particular power supply being tested.
For the unloaded tests, the wattage and volt-amp figures should be as close as possible to one another. The lower the figures are, the less power is being used.
Seasonic Power Load Tests

Power Supply
Wattage
Test Type
Loaded
Unloaded
Seasonic SuperTornado
400 W
(A-PFC)
Active Power
177 W
6 W
Apparent Power
182 VA
7 VA
Vantec iON2
350 W
Active Power
192 W
10 W
Apparent Power
277 VA
21 VA
Antec TruePower 330
330 W
Active Power
195 W
22 W
Apparent Power
289 VA
38 VA
Ultra X-Connect Green UV 500W
500 W
Active Power
193W
22 W
Apparent Power
307 VA
40 VA
AOpen Silent Power AO400-12AHN
400 W
Active Power
179W
9 W
Apparent Power
275 VA
18 VA
Seasonic S12-430
430 W
(A-PFC)
Active Power
179W
6W
Apparent Power
180VA
9VA
PC Power and Cooling Turbo-Cool 510 Express/SLI

510 W
(A-PFC)

Active Power

200 W

29 W
Apparent Power
202 VA
32 VA
HEC Ace Power 580UB

580 W

Active Power

183 W

12 W
Apparent Power
272 VA
26 VA
The HEC Ace Power 580UB proved to be about average in terms of efficiency when compared to the rest of the non-active PFC test group. Next to an Active PFC supply there is no comparison at all in terms of power efficiency, which is expected. When unloaded, the 580UB showed average efficiency also.
The HEC Ace Power 580UB did well in terms of power consumption. It's loaded consumption was the lowest of our non active-PFC group, but its unloaded consumption was a little higher than some of the competition.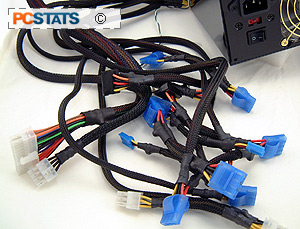 Powerful, fairly efficient and fairly attractive
HEC has built a lot of nice features into the Ace Power 580UB PC, starting with its ample wattage and current abilities and the dual video card connectors it offers for SLI systems. We were also impressed with the copious connection abilities that this PSU boasts as well as its efficient (for a non-active PFC power supply) and stable performance.
If you are looking for a beast of a power supply to run your cutting-edge desktop system, the HEC Ace Power 580UB is a good choice, and as a bonus, it will add to the look of any modded case.
HEC offers a three year warranty on the Ace Power 580UB, which should give you some peace of mind. We couldn't find a retail price for the PSU, but I'd estimate it at around $85USD, and at that price it is worthwhile to consider.
Find out about this and many other reviews by joining the Weekly PCstats.com Newsletter today! Catch all of PCstats latest hardware reviews right here.
Related Articles
Here are a few other articles that you might enjoy as well...
1. PC Power and Cooling Turbo-Cool 510 Express/SLI
2. PC Power & Cooling Turbo-Cool 510-PFC Power Supply
3. Seasonic Super Tornado 400W Power Supply Review
4. Vantec iON2 350W Power Supply Review
5. Ultra X-Connect Green UV 500W Power Supply
6. Seasonic S12-430 430 Watt Power Supply