Overclocking Results:
stock
overclocked
single gpu (core) speed:
325mhz
454mhz
single memory speed:
600mhz
827mhz
sli core speed:
325mhz
436mhz
sli memory speed:
600mhz
776mhz
we did two separate overclocking tests on the msi nx6800 td-128e cards. the first tested a single card as normal, while in the second test we attempted to overclock both cards at once in an sli setup.
a single msi nx6800 td-128e videocard proved to be a very good overclocker, achieving a 454mhz core speed and an impressive 227mhz boost to memory speed, maxing out at 827mhz.
we managed to get the core and memory speeds even higher individually, to 457mhz and 843mhz respectively, but at these settings they would not work together without artifacting, so we had to step them down a bit.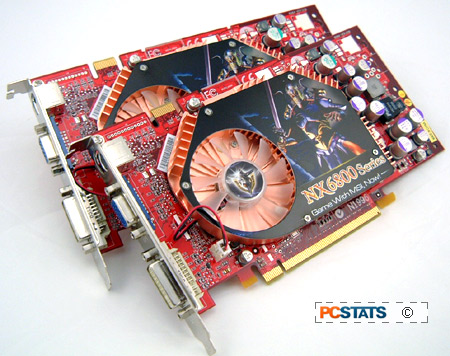 We had few expectations about overclocking the pair of MSI NX6800 TD-128Es in an SLI setup, since our previous attempts with other cards met with limited success. Our experiment proved to be a success though, as the cards achieved considerably better than half the speed gain shown by the single card. We settled at 436MHz core/776MHz memory for the dual-SLI setup.

PCStats Test System Specs:
processor:

amd athlon64 4000+

clock speed:
12 x 200 mhz = 2.4 ghz
motherboards:

gigabyte ga-k8nxp-sli (nf4-sli)
gigabyte ga-k8nsnxp-939 (nf3 ultra)

videocards:

msi rx800xt-vtd256e
gigabyte gv-rx80l256v
powercolor x700 pro
ati radeon x800 xl
msi nx6800gt-t2d256e
albatron trinity geforce 6600gt agp
msi nx6600gt-td128
albatron trinity pc6600
asus extreme n6600top/td/128m/a
gigabyte gv-3d1 (single mode)
gigabyte gv-3d1 (sli mode)
msi nx6600gt-td128e (single mode)
msi nx6600gt-td128e (sli mode)
powercolor bravo x700
msi nx6800 td-128e (single mode)
msi nx6800 td-128e (sli mode)

memory:

2x 512mb mushkin pc3200 l2 v2

hard drive:
74gb wd raptor 10k rpm sata hdd
cdrom:
aopen 52x combo
powersupply:
seasonic super tornado 400w
software setup

windowsxp build 2600
nforce
catalyst 4.12
detonator 66.93

benchmarks

3dmark2001se
3dmark05
codecreatures
aquamark
gun metal 2
x2 the threat
ut2003
doom3

aa test, af and aa+af test
3dmark2001se
ut2003
the agp and pci-e systems use a different motherboard but results are shown for reference.