MSI ships the Theatre 550 Pro with a small selection of software and accessories.
Included in the box is an MSI 'pearl-white' infrared computer remote control (including batteries) along with a USB infrared receiver for it, an S-video/composite/audio breakout box, a flexible wire antenna and a set of batteries for the remote control.
Software includes ATI drivers, Cyberlink's PowerCinema multimedia software (which can also be used to take advantage of the Theatre 550 chip's features) and full versions of Cyberlink's MakeDVD and Power2Go applications.

The card itself is compact and plain looking, with MSI's standard red PCB. An extremely entertained-looking couple are featured on the sticker covering the tuner hardware, along with the equally entertaining "Entertainment Be With You!" slogan. I love my job...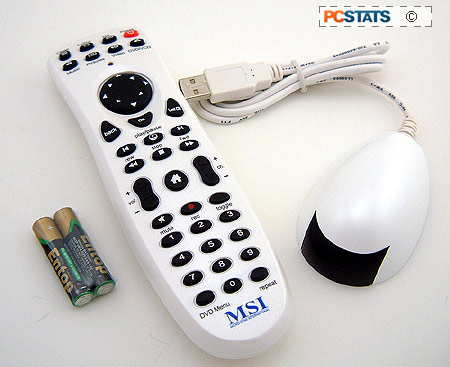 The metal shield covering the tuning hardware is extremely small for a PCI TV-tuner card, and contributes to making the MSI Theatre 550 Pro much lighter than any TV-tuner we've seen recently. The Theatre 550 Pro chip requires no cooling, nor does the Samsung 16MB memory chip installed next to it.
A pair of coaxial inputs jut out of the card, one for CATV, the other functioning as an antenna/FM receiver input. A third connector links to the breakout box, for importing S-video and composite signals, as well as stereo sound.
The MSI 'pearl white' remote control is attractive in white with black buttons, and is nicely contoured. Its too-soft rubber buttons give it an imprecise feel common to many low-end remotes, but it does implement a multi-directional wheel which doubles as a mouse control using a toggle button. It's powered by a pair of AAA batteries, two of which are included with the MSI Theatre 550 Pro package.
It should be noted that this is specifically a computer remote, and it will not function with your other A/V equipment, as it contains no programming abilities. Its functions are enabled by the drivers included with the Cyberlink PowerCinema 3 software or with other compatible multimedia software like Windows Media Centre.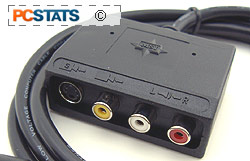 The remote features a lot of functions, and we will go more in-depth on some of them later in the review.
Installing the card itself is as easy as any other PCI device. The drivers are also painless, requiring but a single reboot. The card identifies itself as an 'ATI unified AVstream driver' in device manager.