We've used Powerlink's Powercinema 3 software before, as it was included with the previous ATI Theatre 550 Pro card we tested. The program is generally functional, but has some annoying rough edges.
Installation of the PowerCinema 3 software is straightforward, and the program consumes about 90MB of drive space. Initial setup involves choosing between a 4:3 or wide screen display, audio output, video input (cable or antenna) and country. Once this is done, the program can auto scan for currently available channels, scan your drives for music files.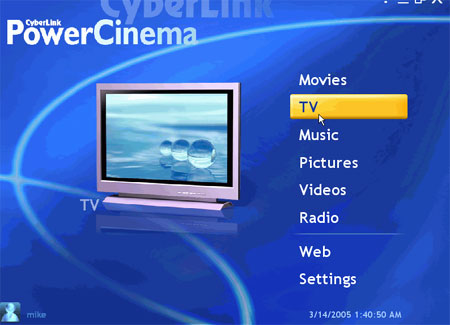 PowerCinema has an enjoyably uncluttered interface which is easy to see on a TV screen and easy to navigate with a remote control. Both of these abilities should be considered essential to any multimedia software, so full marks to CyberLink here.
The PowerCinema program has six major modes: Movie, Video, TV, Pictures, Radio and Music. Each of these choices opens a corresponding menu for playing that type of media. The 'video' menu also allows video capture, and the 'TV' mode functions as a PVR (Personal Video Recorder), allowing you to pause and rewind live TV. This is accomplished by streaming the video data to your drive constantly. The temporary file created for this purpose is erased when the 'TV' application is closed, unless you specifically hit the 'record' button.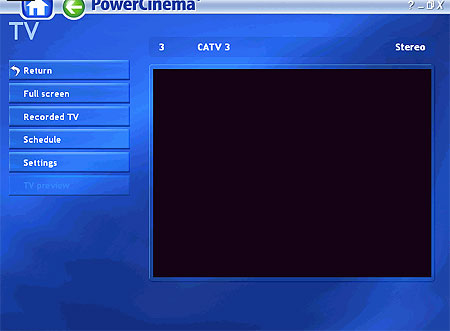 PowerCinema 3 is definitely oriented towards home users, and as such uses a very simplified interface. The video quality settings are abstracted to 'good', 'better' and 'best', with 'better' being the default.
The Movie, Music, Radio and Picture playback portions of this software work well. They enable the application to fill the role of media centre, rather than simply being a vehicle for the Theatre 550 Pro tuner card.
The 'TV' PVR application within PowerCinema also works very well. The TV signal is encoded, compressed and streamed to the hard drive constantly, while a slightly delayed version of the signal is displayed on screen. Viewers can pause or rewind the signal at will, then fast forward if necessary, just as if they had a TIVO or other digital VCR. Image quality does suffer slightly in this mode, as what you are viewing is actually a compressed signal, but in our experience the effect was minor.
A scheduler is also available, allowing you to record your favourite shows directly onto the disk when you can't watch them live.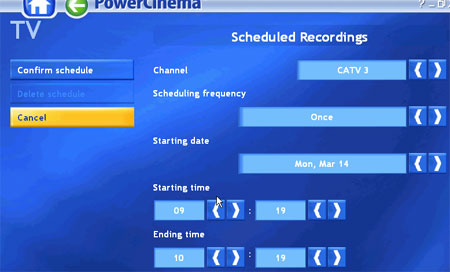 One extremely frustrating issue we had with the software was the fact that PowerCinema will only save captured video to your 'my videos' folder in 'my documents'. The option exists to change this folder in the interface, but it gave us no choices; we were unable to change the save location despite having an entire drive reserved for the purpose of testing video capture! This seems more like a bug than anything else, but we were unable to find any relevant updates from Cyberlink.