If you visit PCSTATS regularly I'm sure you know that we're pretty big into overclocking. Not only do test products with an eye towards getting more speed and performance out of the hardware, we (well, mainly me) also want everyone else to be green with envy from a little overclocking showmanship too!
With no loyalties, we're free to openly jump between platforms and manufacturers, sometimes to the dismay of brand-fans, in search of faster speeds that bring better performance. For example, while much of the industry is more than satisfied with the very overclocking-friendly DFI LANParty NF4 SLI-DR motherboard, we would not hesitate to replace that bad boy if there were a better product on the market... and eventually there will be.
ABIT has had a good history with overclocking, but the company has so far struck out in the Athlon64 world. It's a shame too, since ABIT's boards are usually very well behaved at higher speeds. Before the ABIT AN8-SLI was released, rumors flourished that it would challenge the DFI LANParty NF4 SLI-DR for top spot, so you can be sure that this review is going to be an exciting one as we try to settle that question. Call it an ABIT vs. DFI battle royal if you will.

ABIT AN8-SLI Motherboard



Includes:

Users Manual, Quick Install Guide, MicroGuru Manual, RAID Driver Diskette, Driver CD, Ultra/133 IDE Cable, Floppy Drive Cable, Four Serial ATA Cables, SLI Bridge, SLI Place Holder, IEEE 1394/USB Bracket I/O Shield. AC'97 Soundcard
Based on the nVidia nForce4 SLI chipset, the ABIT AN8-SLI supports any current and future Socket 939 AMD Athlon64/FX/X2 processor on the market. Its four DDR RAM slots can be installed with up to 4GB of PC3200 DDR RAM, and thanks to the two physical PCI Express x16 slots, two videocards can run in SLI mode for pixel kicking speeds that boggle the mind.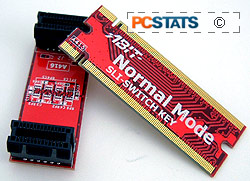 Hardware goodies include IEEE 1394 firewire, a Gigabit NIC, a stand-alone 7.1 channel AC'97 audio card, a Port 80 diagnostics card and of course the ABIT Q-OTES chipset cooling solution. Expansion is available through two PCI Express x1 slots and there are also two 32-bit PCI slots for legacy devices.
With a concise set of integrated peripherals, the ABIT AN8-SLI is still a fairly large full size ATX motherboard; it measures in at 24.5 x 30 cm in size and mounts onto the backplate via nine screws. The I/O area is limited to just a pair of PS/2 ports, four USB, one Firewire, and a network jack. The most eye catching feature of the AN8-SLI is its heatpipe cooled NF4 SLI chipset, which takes up the remainder of the I/O space, but we will get into that a bit later. Overall the layout of the motherboard is decent, although there are a few things that leave me scratching my head.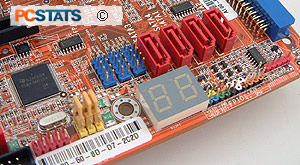 The Port 80 card is not one of them. Every motherboard designed for enthusiasts should have a Port 80 diagnostics card built right in (it's the two-digit alphanumeric display in the bottom left corner of the board). Whether you're a tweaker or not, in times of hardware trouble the little Port 80 device makes life a lot easier. If it reads 'C1,' you most likely have a memory related problem. If its green LED face screams '26' back at you, then you've overclocked way too high and the systems' crashed.
The standards that dictate what codes are displayed on the Port 80 card have been around for years, and the values are the same no matter what brand or model of motherboard you use (if it has the card anyhow). For some reason however, ABIT has placed this Port 80 display upside down on the AN8-SLI. This doesn't affect the device itself, but it did make reading the codes slightly more inconvenient.