Doom 3 is the most advanced game to date. it takes advantage of the latest videocard technology and pushes the processing power of the CPU to its absolute limit. At its highest setting, Ultra quality, texture sizes pass the 500MB mark which means even tomorrow's videocards will have a hard time running everything. The frame rates in the game itself are locked at 60 fps so anything above that point is wasted. Each test is run three times with the third run being recorded.
Doom3
LQ 640x480:
FPS
Ranking
Albatron K8X890 Pro II (K8T890 200/400)
125.7
MSI RS480M2-IL (RS480 200/400)
110.4
Chaintech Zenith VNF4 Ultra (NF4 Ultra 200/400)
124.7
DFI LANParty NF4 SLI-DR (NF4 SLI 200/400 7800GTX)
126.9
DFI LANParty NF4 SLI-DR (NF4 SLI 200/400 7800GTX SLI)
127.5
Epox 9NPA+ SLI (NF4 SLI 200/400 7800GTX)
124.3
Epox 9NPA+ SLI (NF4 SLI 200/400 7800GTX SLI)
122.2
In the final benchmark the Epox 9NPA+ SLI performs very well. Users would definitely be happy with the performance here. This is a good solid SLI platform.
Nice to see Epox back in the game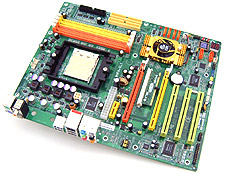 The Epox 9NPA+ SLI motherboard is a prime example of excellent engineering. It sports the tools necessary to get the best use from an socket 939 AMD Athlon64 - the nForce4 SLI chipset. The physical layout is clean and easy to work with, and the inclusion of a Port 80 diagnostics card is entirely appreciated by this overclocker.
Accessories included with the board like the rounded cables are of surprisingly good quality - it even comes with a handy screwdriver! The software package that includes Norton Internet Security to assist in keeping new users safe from potential viruses and hackers.
In terms of performance the Epox 9NPA+ SLI was very good in most of the benchmarks. The tests illustrated that the 9NPA+SLI was able to keep up with the DFI LANParty NF4 SLI-DR in pretty much every test. That is excellent considering the DFI motherboard is one of the quickest boards on the market. On the overclocking front, we were able to push the Epox 9NPA+SLI we tested to a very respectable 324 MHz. With a retail price of $163 CDN ($135 US), the Epox 9NPA+ SLI is a real steal and those of you looking to upgrade should definitely check out this motherboard!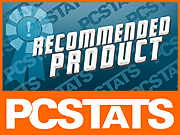 Find out about this and many other reviews by joining the Weekly PCstats.com Newsletter today! Catch all of PCstats latest hardware reviews right here.
Related Articles
Here are a few other articles that you might enjoy as well...
1. ABIT AN8-SLI nForce4-SLI Motherboard Review
2. ECS KN1 Extreme nForce 4 Ultra Motherboard Review
3. Asus A8N-SLI Premium Athlon64 Motherboard Review
4. ECS PF88 Extreme Hybrid Intel/AMD Motherboard Review
5. Foxconn WinFast NF4SK8AA-8KRS Motherboard Review