In the world of overclocking, there are a lot of companies offering so-called 'enthusiast' gear. Trying to woo consumers with fancy colours and the promises of high clock speeds sometimes works, but if the hype overshoots real world results then disillusionment with a brand quickly sets in. This isn't the case with Epox, however.
The company is ranked as Tier 2, and of that class of manufacturers it is far from the largest, but what Epox lacks in size its products make up for in overclocking friendly options, tools, and settings. At least for the most part... in the last year or so Epox seems to have mellowed out a bit. While its boards are still fast, gone are the really high voltage options that drew a lot of attention from enthusiasts looking to break down speed barriers. Still, in the grand scheme of things, this leaves the rest of us with plenty to get worked up over as we pour over what is known as the Epox EP-9NPA+ SLI motherboard.
The Epox 9NPA+ SLI supports any current and future socket 939 AMD Athlon64 processor and is based on the Nvidia nForce4 SLI chipset with support for up to 4GB of PC3200 DDR memory. We will get into the specifics a bit later but on board goodies consist of Gigabit LAN, IEEE 1394a, 7.1 channel audio and an additional Serial ATA II/RAID controller. A set of nice quality rounded cables are bundled in with the package, and we find two sets of IDE cables, and one FDD cable encased in white rubber sleeving. The wires are individually separated, so it's easy to mold the rounded cables around the inside of a computer case, from board to drives. We see all manner of rounded cables tossed in with motherboards in the PCSTATS labs, and some of them are really useless, so it's reassuring to see good gear used.

Epox 9NPA+ SLI Motherboard



Includes:

Users Manual, Quick Install Guide, Driver CD, MOSFET Heatsinks, Phillips/Slot Screwdriver. Thermistor, Two Ultra/133 Rounded IDE Cables, Floppy Cable, Four Serial ATA Cables, Four Molex to Serial ATA Power cables, Rear I/O Fan, IEEE 1394 Bracket, USB Bracket, Rear I/O Shield, SLI Bridge, Epox Sticker
At first glance, the Epox 9NPA+ SLI looks like a very busy motherboard but the layout is actually near perfect for enthusiast users. In fact it feels like the engineers at Epox really thought For instance, Epox places the IDE and floppy drive cables to the right of the DIMM slots, this keeps the large cables away from the other system devices. As you can see there is a gap between the SPDIF/Optical audio output and the first set of USB slots, that space is for a small 40mm exhaust fan. Working in conjunction with the MOSFET heatsinks, this helps expel the hot air from the motherboard power supply area.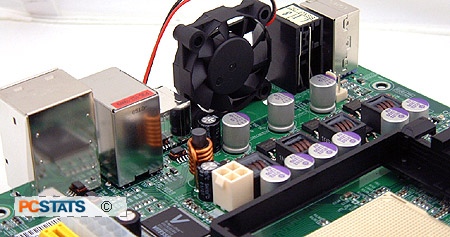 The 9NPA+ SLI motherboard contains a variety of capacitors, some for the motherboard power supply are the type used on videocards. We see Rubycon, TEAPO and a brand only indicated with a capital M. Elsewhere on the board, tweakers will appreciate are the dedicated power & reset buttons at the bottom right hand corner of the motherboard. I usually like to power everything together once before I install hardware into a case, and shorting pins to turn on the PC is a pain.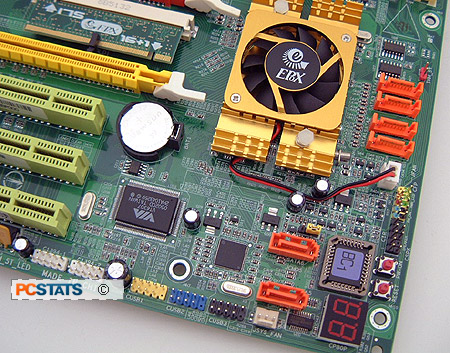 By default the nVidia NF4 SLI chipset supports four Serial ATA II ports. Hard drives attached to these ports can be run in RAID modes 0, 1 and 0+1. The Epox EP-9NPA+SLI motherboard adds on to this capability with an on board PCI Express-based Silicon Image SiI3132 Serial ATA II controller.
The SIS SiI3132 supports two additional Serial ATA II channels, and thanks to port multiplier capabilities it can accommodate up to 30 SATA HDDs (fifteen on each port) with an appropriate port-multiplier device. Of course the 15-drives would all share the bandwidth, but the fact that multiple HDDs can be connected to the SiI3132 Serial ATA II controller is very cool. It is good to know the controller runs through the high bandwidth PCI Express bus too.