Overclocking Results:

Epox is a veteran to the overclocking game and while its boards do not have "insane voltages" anymore, it still knows how to OC with the best of them. Before I started to increase the motherboard clock speed however, I first lowered the CPU multiplier to 6x and the memory frequency to run in 166 MHz mode. This way neither the processor or memory would hold back the motherboard. To those who are wondering about HTT speed, it will be decreased when necessary.

Starting at 200 MHz I increased the motherboard clock speed in approximately 10 MHz intervals, I know the Epox 9NPA+SLI board can handle it. The Epox 9NPA+ SLI seemed to be up to the overclocking challenge but the motherboard quickly hit its first roadblock at 245 MHz. At this speed, it would randomly reset itself while booting into Windows or would lock up at the POST screen. Lowering the HyperTransport multiplier to 4x fixed that, and we continued to push the motherboard faster.

At the 260 MHz mark I had to lower the memory divider yet again, this time all the way down to 100 MHz so it would not bottleneck the system. The system still seemed a bit flaky and this was solved by increasing the chipset voltage to 1.7V. Finally, everything with the motherboard was easy all the way up to 324 MHz. Anything higher than that and the motherboard would give us random problems. Lowering the HTT frequency did not seem to help, nor did increasing the chipset voltage to 1.8V.

I suspect that heat might be the issue since according to the BIOS, the NF4 SLI chipset was operating near 55-60C, still for a completely stock motherboard 324 MHz is an excellent speed.

The Epox BIOS: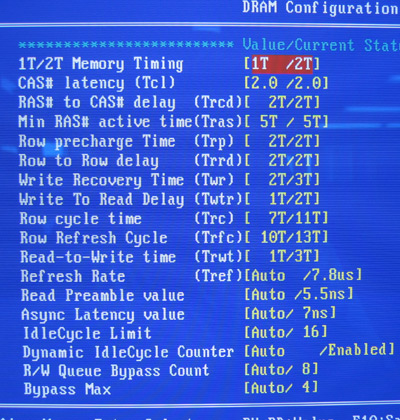 Tweakers will certainly enjoy the DRAM configuration options in the Epox BIOS. There are the usual memory timing adjustments like CAS Latency, RAS to CAS Delay and Row Precharge as well as new memory timing adjustments like Row Cycle Time and Read to Write time.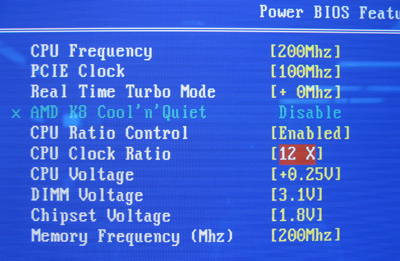 In the Power BIOS section we have the overclocking features of the motherboard. The motherboard clock speed ranges from 200-400 in 1 MHz increments and you can also adjust the PCI Express frequency although that is best left alone. The Real Time Turbo Mode is Epox's dynamic overclocker and can raise the FSB between 1-31 MHz depending on the level of load on the machine. For benchmark and overclocking tests, this was obviously disabled. There are multiplier adjustments and the processor voltage can go as high as +0.25V, DDR voltage as high as 3.1V and chipset to 1.8V. Finally we also find the memory frequency multiplier here and that can be set to run at 100MHz, 133MHz, 166MHz and 200MHz modes.

PCStats Test System Specs:
processor:

amd athlon64 4000+

clock speed:

12 x 200 mhz = 2.4 ghz

motherboards:

albatron k8x890 pro ii (k8t890)**
msi rs480m2-il (rs480)**
chaintech zenith vnf4 ultra (nf4 ultra)
dfi lanparty nf4 sli-dr (nf4 sli)
epox 9npa+ sli (nf4 sli)

videocard:

msi nx7800gtx-vt2d256e

memory:

2x 512mb pdp pdc1g3200+xblk

hard drive:
74gb western digital raptor sata
cdrom:
aopen combo 52x
heatsink:
amd athlon64 4000+ reference heatsink
powersupply:
pc power & cooling turbocool 510 sli
software setup

windowsxp
forceware 6.53
forceware 77.77

workstation benchmarks

sysmark 2004
business winstone 2004
content creation 2004
super pi
sisoft sandra 2004
pcmark04
3dmark2001se
3dmark05
aquamark3
comanche 4
x2: the threat
ut2003
ut2004
doom 3