I was recently asked why I constantly search for better RAM, when what's already installed in my PC is pretty darn fast. I explained that system memory is much like the tires of a highly tuned sports car. For everyday use we don't give it much notice, but when you need to do some fast racing, those memory modules can make a world of a difference. Just as the wrong type of tire can cripple a race bread Porsche, memory can sometimes severely limit the top speed of a highly tuned computer.
Trying to find the "right" memory for one's PC is a difficult task, what with all the different brands and speeds to choose from for both Intel and AMD platforms. Going back to the car analogy, a wrong choice could be like equipping a minivan with racing slicks or a Porsche 911 with light truck tires, neither would work very well. But all is not impossible. A little research here and there can make all the difference when scouting out enthusiast grade memory, and that is where PCSTATS comes in.
On the test block today is a 1GB set of dual channel DDR from Crucial. Sold under the Crucial Ballistix name, this pair of 512MB PC4000 DDR modules have been well received by the enthusiast community. The 184 pin (unbuffered, non ECC) DDR DIMMs are dual channel compatible and have a default rated speed of 250 MHz, or PC4000. Default timings are very conservative at 3-4-4-8. To reach an overclocked speed of 250 MHz, the memory is rated for use with voltages as high as 2.8V. The sticker price for a pair of these modules is about $234 CDN ($200 US).

Crucial Ballistix PC4000
The yellow Neng Tyi heatspreader of the Crucial Ballistix line contrasts nicely against the black PCB and lettering. Heatspreaders are realistically more for looks than "heat," but DDR memory can get pretty toasty when running at high speeds with high voltages.
After sales support is a big concern for anyone doing memory shopping, and thankfully Crucial really does excel in that regard. There is its "Live Chat" feature which connects you to a live person in less than a minute, and a toll free 1-800 number too. The live chat feature is also good for asking questions; like what memory is best for your system or sorting out motherboard compatibility issues. Crucial's automated phone system is easy to navigate through and I was connected to a live tech support agent within a few minutes when we tested the companies support claims out.
Overclocking Ballistix PC4000!

Overclocking Results:
Before we started overclocking, the CPU multiplier was first lowered to 6x, this way the AMD Athlon64 4000+ processor would not hold the memory back. HTT speeds were left at stock, and will be adjusted when needed. Memory timings were first set to 2-2-2-5, since we're interested in seeing how high the memory could go with tight timings.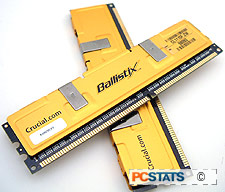 Starting at 200 MHz the clock speed of the memory was increased in ~5 MHz intervals. Things did not go very well to start and the system displayed some weird errors at 205 MHz. Increasing the memory voltage to 2.8V solved that, and I continued overclocking the Crucial Ballistix memory higher. The Ballistix PC4000 DIMMs did not like running those tight 2-2-2-5 timings and the system maxed out at 223 MHz.
Loosening up the memory timings to 3-4-4-8 (default) allowed the Ballistix PC4000 memory to clock much higher, and the first thing I did was set the motherboard clock speed to 250 MHz. The memory had no problems running at that speed and performance was quite nice too. Pushing the system further we finally settled for a maximum overclocked speed of 273 MHz with 3-4-4-8 timings. Higher voltages did not bring any improvement. Next up, benchmarks including Doom3!