Overclocking Results:
The Asus EN6600GT/Silencer/HTD/256M/A comes factory overclocked with the core running at 520 MHz and memory at 1.04 GHz (500 MHz/1 GHz stock clocks for 6600GT). Mighty impressive considering the videocard is passively cooled. As usual, the core is the first component to be overclocked and its clock speed was raised in 5 MHz intervals.
The GeForce 6600GT core handled overclocking quite well and temperatures of the copper radiator fins did not increase much. A 550 MHz core speed was a breeze to make, and the videocard did not start to act up till it went past the 570 MHz point. At those speeds, the videocard would lock up while running benchmarks. Lowering the core speed to 566 MHz allowed the Asus EN6600GT/Silencer/HTD/256M/A to run every test overclocked.
Like the core, the memory on the Asus EN6600GT Silencer videocard is overclocked by default as well. Starting at 1040 MHz, the memory was pushed higher with 10 MHz jumps. The memory easily cracked the 1100 MHz barrier; it looks like the EN6600GT/Silencer/HTD/256M/A is a good overclocker actually. At 1170 MHz, the Asus EN6600GT Silencer started to artifact while running benchmarks. The memory frequency had to be lowered to 1149 MHz before all visible artifacts disappeared.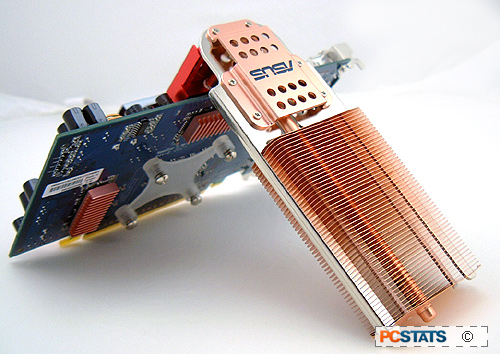 The core and memory on the Asus EN6600GT/Silencer/HTD/256M/A had no problems running together at maximum speeds, traditionally nVIDIA videocards are a bit more picky when it comes to overclocking.

PCStats Test System Specs:
processor:

amd athlon64 4000+

clock speed:

12 x 200 mhz = 2.4 ghz

motherboards:

asus a8n-sli premium (nf4-sli)*
dfi lanparty nf4 sli-dr (nf4-sli)

videocard:

msi rx850xt-td256e
msi rx800xt-vtd256e
ati radeon x800 xl
powercolor x700 pro
powercolor bravo x700
geforce 7800 gtx sli
msi nx7800gtx-vt2d256e (sli mode)
albatron geforce 7800 gtx
gigabyte gv-nx78x256v-b
msi nx7800gtx-vt2d256e (single mode)
msi nx6800gt-t2d256e
msi nx6800-td128e (single)
msi nx6800-td128e (sli mode)
gigabyte gv-3d1 (single mode)
gigabyte gv-3d1 (sli mode)
msi nx6600gt-td128e (single mode)
msi nx6600gt-td128e (sli mode)
msi nx6200tc-td32e
asus en6600gt/silencer/htd/256m/a*

memory:

2x 512mb mushkin pc3200 l2 v2

hard drive:
74gb wd raptor 10k rpm sata hdd
cdrom:
aopen 52x combo
powersupply:
seasonic super tornado 400w
heatsink:
stock athlon64 4000+ hsf
software setup

windowsxp build 2600
nforce
catalyst 5.9
detonator 7778.01

benchmarks

3DMark2001SE
3DMark05
CodeCreatures
Gun Metal 2
X2 The Threat
UT2003
Doom3

AA Test, AF and AA+AF Test
3DMark2001SE
UT2003
To those who are wondering, yes the benchmark suite will be upgraded very shortly! ;-)