Building a quiet PC is a difficult task, but not impossible. One of the main reasons why watercooling has exploded in popularity the last few years is because a good kit can give you excellent cooling abilities, while remaining very quiet. Thanks to heatpipes, heatsink designs have also become a bit more creative which has helped to improve cooling capabilities beyond the average.
The processor is probably the first component people think about when talking about heat produced by a computer, however videocards definitely deserve some consideration. With modern videocards like the GeForce 6600GT and its 147 million transistor cores (rivalling the complexity of processors like the Pentium 4 Prescott core and its 125 million transistors), videocards can run quite toasty as well.
Considering the lack of real estate around the typical AGP/PCI Express slot, manufacturers are turning towards less orthodox forms of cooling. For instance dual slot cooling solutions used to be the exception, now it is the norm. A few manufacturers are even building videocards that are intended to be used with watercooling systems right out of the box. At the moment this is more for show, but perhaps it is a sign of things to come if manufacturers have to deal with rising videocard heat loads.

Asus EN6600GT/SILENCER/HTD/256M/A




Includes:

Asus Speed Setup, Users Manual, DVI to Analog Converter, TV/Component Out Connector, Driver CD, Manual CD, Joint Operations: Typhoon Rising CD, Xpand Rally CD, Asus Bonus GAMEPACK CDs, PowerDirector CD, AsusDVD CD, Media @ Show CD
Those of you who are looking to build a quiet computer are not out of luck, you just have to look a bit harder for the right parts. The Asus EN6600GT/Silencer/HTD/256M/A offers users an excellent mix of performance from its GeForce 6600GT core and silent operation thanks to its passive heatpipe cooler.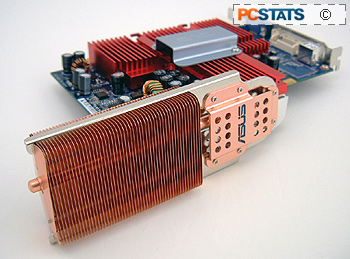 The videocard is based on the GeForce 6600GT core and is backed by 256MB of DDR3 memory. The card sports dual output with a pair of DVI/analog connectors. There is also a DVI to analog converter in the package for dual monitor users. If you want to build a quiet HTPC machine, the Asus EN6600GT Silencer/HTD/256M/A also supports component (Y, Pb, Pr) output.
The most striking feature of the EN6600GT/Silencer/HTD/256M/A is obviously its cooling solution, but we will discuss that in detail a bit later. Asus uses a custom PCB board layout with the EN6600GT/Silencer, the large heatpipe cooler would not be compatible with the standard design.
One feature computer users should be happy about is virtually all new videocards these days support component output. With high definition TVs the way of the future, hardware manufacturers are positioning computers as powerful home theatre multipurpose machines.
Asus include a handy break out box with its videocard that incorporates both component (Y, Pb, Pr) and standard TV output (S-Video, composite) capabilities. Component cable quality is important when it comes to output image there is a good reason why Asus does not include any with the EN6600GT/Silencer/HTD/256M/A videocard.

Including a set of high quality cables would dramatically increase the price of the videocard, while bundling lower quality cables could possibly make the videocard look bad. This way users can buy the cables that they need, instead of getting something that they might not want.
One area where Asus really excels is its software bundle. Included are five full version games, Joint Operation: Typhoon Rising, Xpand Rally, Chaos League, Second Sight and PowerDrome which will no doubt keep gamers busy for quite some time. Those who want to do video editing on their PC can thanks to Asus also including a copy of PowerDirector.