Technically, one does not need to have a domain name for a website. There's nothing stopping you from simply using a web server's IP address for all traffic. If you're making a private site for yourself and a few of friends, this may be all that's needed. On the other hand, if you want general Internet traffic to have even a chance of visiting the website, you better get out there and get a URL that ordinary humans can remember.
If you've made up your mind, there are a couple of ways to get a domain name for a website. The most straightforward way is to visit one of the many, many domain name registration services. There's a lot of choice out there, so do some research and try to find a reputable service in your home country. A central body (ICAAN) governs all domain name registration, so the various registration services have purchased permission to lease domain names to consumers for a period of time.
Once a domain name registration service provider to your liking has been found, the next step is ensuring the domain name you've thought of is not already registered. All registration services should include a domain lookup tool as part of their tools. Using this, try out the prospective website domain name and see if anyone else has already claimed it.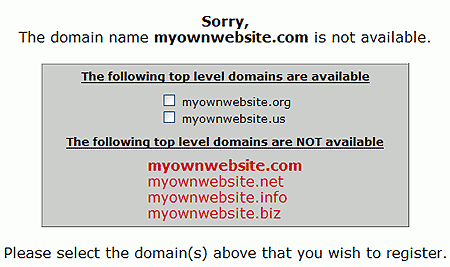 If it is available, choose the extension (.com, .org, .net, etc.) and register the domain name. Remember that it is being registered for only a certain length of time, measured in years. After this expires, you will have to renew or risk losing the name to someone else.
Once the domain name is registered, the registration service's tools should help you link it to the web server's IP address. From this point on, anyone who enters your domain name into a web browser will be directed to your Apache server.
Getting a DNS name for free
It is quite possible to get a free DNS name, as there are services out there which provide just such a thing. The obvious drawback of this is that the user generally has to choose from the limited selection of names which each particular service has available. Still, it's better than using a plain IP address. Here are a couple of places to start - here, and here. These are the same services that provide dynamic DNS solutions as detailed below. The domain names can be used for static or dynamic IP addresses interchangeably.
Using a dynamic DNS service to host a website
For computers with a dynamic IP internet connection, like DSL, the public IP address changes every time the computer connects to the Internet. This can be a serious barrier to hosting a website. The domain name you acquired connects to one IP address only, so when a web server's address changes frequently, everyone who uses the domain name as a URL to visit that website will get an error message, and not be able to resolve the site's content.