A virtual server is a set of instructions given to the home router, telling it that if data comes in over a specific port (say TCP port 80 for hosting a website) that data should be allowed through the firewall and forwarded to a specific computer inside the network. In this way, we can make the website (or whatever else) available without otherwise compromising the host PCs' firewall security.
Creating a virtual server tends to be the same in almost all home router models. First consult the documentation to find the configuration page for 'virtual servers' or the equivalent. When creating a virtual server, first enter the IP address of the computer that is hosting the website. Next, find the port that data enters that system on. Enter TCP port 80, since this is the default port for HTTP.
Finally, choose the port that will be open on the router to receive incoming data. In most cases, this will be the same as the port on the host PC, so enter 80 here too. Once all this information is saved to the router, all data coming from the Internet to the firewall on TCP port 80 will be allowed through the firewall and redirected to the host computer, thus allowing access to the website.
Halting IIS website hosting (Windows XP Pro/2000 only)
It's important to note that the Apache service will not be correctly installed if Microsoft IIS (Internet Information Server) is already hosting a website on the computer. If there is a website up and running with IIS already, it need to be stopped before Apache can be used to host a website on the same system. Apache will not share port 80 (the default port for HTTP web traffic) with any other application, so any program that monopolizes this port (including some firewall software) may cause Apache not to install its service correctly.
When IIS is installed on Windows XP or 2000, it starts hosting a basic website automatically. Given this fact, it's quite likely that if you are using Windows XP Pro or 2000, you are unknowingly hosting a site through the program. To check on this and stop IIS if necessary, right click on 'my computer' and go to 'manage'. In the computer management Window, choose 'Internet Information Services' and expand it.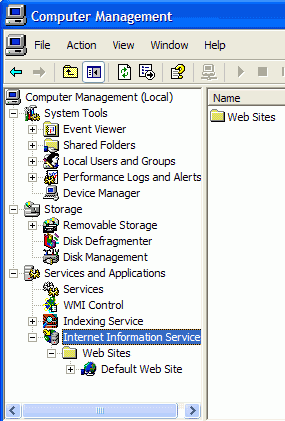 Under the 'web sites' folder, the currently created websites are listed. The Windows XP IIS default website is 'Default Web Site'.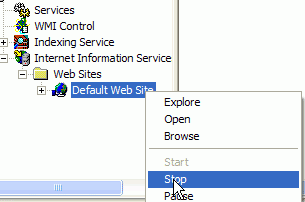 Right click on 'default web site' and choose 'stop' to stop IIS hosting the site, allowing Apache to start properly.