Aluminium cases were one of the first casing trends to hit the desktop PC market, the first models arriving well before the waves of uber-customized cases, windows, cold-cathode tubes and other gimmicks flooded computer stores near you.
There's a good reason for their early arrival too, since aluminium makes a lot of sense as case material.
Besides the aesthetic appeal of brushed aluminium, it's also massively lighter than steel.
While fancy plastic and steel cases are now the order of the day, aluminium cases still have a high-end niche in the market and have retained a lot of their initial cachet (and high prices; aluminium is not cheap).
Gigabyte seems to have a hand in every conceivable PC market these days, and cases are now no exception.
Today we'll be looking at the company's first stand-alone computer chassis, the high-end Gigabyte 3D Aurora aluminium case which is designed to especially accommodate watercooling systems.
Let's see how it measures up.

Gigabyte 3D Aurora Aluminum Case

Includes

Instructions and necessary mounting hardware (screws and rails), (2) serial ATA power adaptors, keys, cable clips, custom logo window for front light. No power supply is included.
The 3D Aurora case has a reasonable 8" x 17" footprint and is quite tall at a full 20". While it is considerably taller than your average computer case, it weighs less than you might think, due to its (almost) all-aluminium 1mm thick construction.
The front of the 3D aurora holds its most notable feature. When the case is installed and powered on, an internal blue LED shines down through a transparent window on the bottom of the case, displaying the '3D Aurora' logo on the ground. Great for showing off at LAN parties. Gigabyte also provides a tool allowing you to create and print customized transparent 'labels' for the projector, and a clear window plate is included with the case..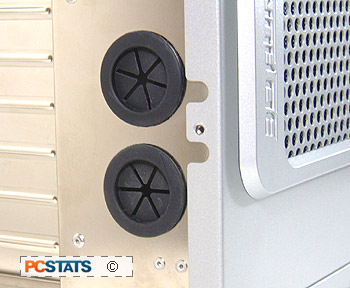 The front panel ventilation holes also glow blue. The front features an aluminum locking swing door which hides the external drive bays from view. The right side case panel is also lockable.
Three 120mm LED-lighted case fans are included for case ventilation, and provisions are also made for water cooling (more on this later). Air intake grills are present on the front and right side of the case, the front vent includes a fabric filter, while the side vent uses a plastic grill to keep out larger particles or insects.
The Gigabyte 3D Aurora case features screwless installation of external drives via a locking lever system. Five 5.25 inch drive bays are provided as well as two external and five internal 3.5 inch bays. Seven rear expansion slots are present. A black plastic 'toolbox' is pre-installed in the 3.5" drive bays and holds the various accessories that come with the case.