Protected Video Path - PVP-UAB - User Accessible Bus is the second aspect of video control in Microsoft's OCMP suite. It is intended to ensure that information passing through the system bus cannot be 'snooped' or otherwise copied at the hardware level by encrypting all 'premium content' media data with a simplified form of 128-bit AES encryption.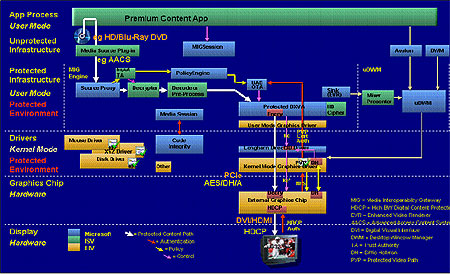 In order to be compliant with PVP-UAB, graphics cards must incorporate both a unique identifier (which is used in the encryption/decryption process) and a hardware decryption engine to decrypt the 'premium' data as it is received from the system bus.
Protected User-Mode Audio - PUMA - is Microsoft's projected mechanism for protecting audio media from the same copying risks that the PVP features cover for video. License based DRM (Digital Rights Management) systems used by online music vendors have proven to be quite effective at managing the use of digital music files (for better or worse), but they do nothing to prevent these files from being digitally copied in a form which separates them from their license.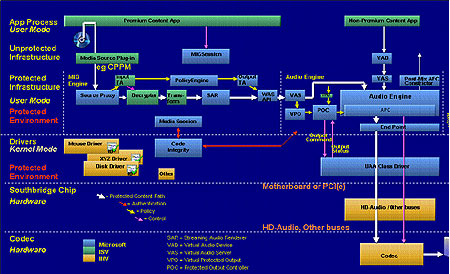 PUMA will combine the interface disabling and quality reduction abilities of PVP-OPM with a 'no-fly' list of restricted software. Under Vista, audio is run in a separate user process, removed from the system kernel operations; audio applications and hardware may need a certificate of approval before they can handle audio under PUMA.