Protected Audio Path - PAP - is a future audio protection implementation for Vista or later Windows operating systems. It is not expected to be implemented anytime soon. The main feature of PAP will be internal encryption similar to that used by PVP-UAB, which will scramble audio signals as they pass through the system bus between the media being played and the sound card or audio chip.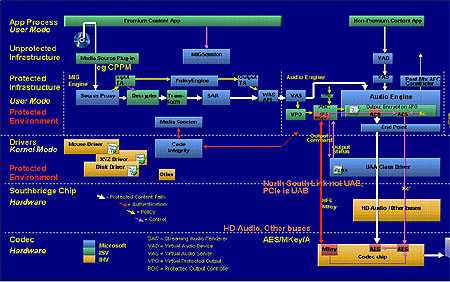 It's not clear how this would be implemented with digital audio files, which we'd expect to be the primary means of playing audio on the computers of the future.
Getting on board the good ship Vista: OCMP compliance
The 'PVP' features of the OCMP suite outlined above are dependent on the manufacturers of the computer hardware. HDCP, on which the whole system is based, requires a unique identifier for each component, and Microsoft's PVP-OPM has the same requirement for video cards and monitors/TVs.
Essentially, in order for a video card or monitor to work with the OCMP system, it must be known to incorporate the correct hardware and driver features. There will be no strict certification system, but rather an honour system enforced by the use of a universal revocation list which can be delivered by means of Windows update or along with new protected content. This list is used by the Vista operating system to identify hardware which is known not to meet OCPM requirements.
It's important to note that OCMP compliant hardware is not required to run Windows Vista. Certified hardware and drivers will be required to play protected content only. For the foreseeable future, this will encompass HD DVD, video and possibly audio. Users that do not intend to access these media types on their home PC will be unaffected by Vista's DRM features.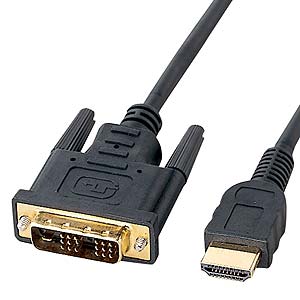 As you might imagine, the most contentious aspect of said features is the prospective effect that they will have on users who wish to play tomorrow's HD DVD disks on their computers. Most computer monitors are quite capable of displaying HD resolutions, thus making them an ideal home for HD DVDs.
Except that almost all current computer monitors do not support HDCP, meaning that Windows Vista will not allow them to display future HD content in its full glory. The image will be down-sampled then displayed, which has media enthusiasts, digital rights advocates and just about everyone else up in arms at the prospect of having to upgrade computer monitors for the Vista operating system.
Now depending on which side of the issue you take, Microsoft is either trying to ensure that tomorrow's movies will still run on the average PC rather than seeing the industry take more effective steps to break DVD compatibility with computer systems, or they are cynically adding an unnecessary feature to their new OS to curry favour with the monolithic music and movie industries. One way or another, we have seen the future, and it is encrypted.
It's quite possible that today's state of the art computer and TV/display hardware will not suffice for rendering tomorrow's high-definition content. It remains to be seen whether the needs of the recording and movie industries to prevent unauthorized copying will trump the massive installed base of older HD-capable displays and computers. Consumers are likely to have the last word in this, so we'd advise you to speak with your money.
Find out about this and many other reviews by joining the Weekly PCstats.com Newsletter today! Catch all of PCstats latest hardware reviews right here.
Related Reviews
Slipstreaming: Creating a WindowsXP Install CD with Service Pack 2
Windows XP Service Pack 2 / SP2 Overview
Firewalls and Internet Security
Browser Hijacking & How to Stop It
Microsoft Windows Anti-Spyware (beta) Software Review