The AMD K8 platform is the most popular desktop solution right now. According to recent statistics from Ziff Davis, AMD desktop systems out sold Intel, 49.8% to 48.5% for the first time ever. Looking at year thus far, AMD has seen its retail market share leap from 20% to 40%, as of late summer. Arguably the most common chipset to be found in all those K8 desktop computers is one made by nVidia, the nForce 4. Yet for all its popularity, the Nvidia nForce 4 chipset has never provided AMD Athlon64 users with an integrated graphics option.
Integrated graphics are an important component of the larger desktop market pie, and Nvidia has only recently addressed its shortcomings by introducing the GeForce 6100 & 6150 series core logic. As we all know, the traditional party line is that integrated graphics solutions lack the 3D performance and display features generally found in even the most basic of mainstream value-segment AGP or PCI Express videocards.
The nVidia GeForce 6150 improves the situation markedly by offering a usefulness that rivals it mainstream GF6-series graphics counterparts. For system integrators and consumers building compact PCs, the integrated graphics capability that the GeForce 6150 provides is more impressive compared to other vendor IGPs.

Gigabyte GV-K8N51PVMT-9 Motherboard



Includes:

User's Manual, Driver CD, Ultra133 IDE Cable, Floppy Cable, Serial ATA Cable, S-Video/Component Break Out Box, I/O Shield
PCSTATS has already examined the nVidia GeForce 6150 chipset, and its integrated graphics capabilities on the Foxconn WinFast 6150K8MA-8EKRS motherboard, however our experiences left us wanting a bit more. The Gigabyte GV-K8N51PVMT-9 fills in the gaps in a couple important respects, and at first glance it appears like this board has the potential to be a pretty impressive MicroATX Athlon64 motherboard.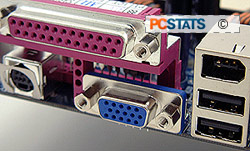 The Gigabyte GV-K8N51PVMT-9 supports all Socket 939 model AMD Athlon64/FX/X2 processors, and its four DDR DIMM slots can accommodate up to 4GB of PC3200 memory in a dual channel configuration. Despite its mico-ATX size, the GV-K8N51PVMT-9 is fairly well equipped with Gigabit LAN, IEEE 1394a, four SATA II headers, 7.1 channel high definition audio and of course the integrated GeForce 6150 GPU.
Upgrades can be accommodated via the single PCI Express x16 slot for videocards, PCI Express x1 slot for high bandwidth devices and two PCI slots for legacy expansion cards.