Dual GPU videocards are nothing new, but they are pretty rare. The only recent examples that spring to mind are the original XGI Volari graphics cards, and the dual-GPU GeForce 660GT based Gigabyte GV-3D1 videocard from earlier this year. You can find the test report on that twin GPU Gigabyte GV-3D1 videocard here , but the gist of PCSTATS' findings are that two cores certainly show the potential of what a single slot SLI videocard can offer.
Really though, it's those three little letters that strike the main difference between modern dual GPU videocards and those implemented in the past. In the case of the original Gigabyte GV-3D1, its two 6600GT cores were effectively acting as though two Geforce 6600GT videocards were running in SLI. All of which happened on one PCB, and this was itself limited somewhat by SLI architecture and drivers at the time. nVidia's Scalable Link Interface (SLI) technology is supported natively by many more game titles now, and Gigabyte is refreshing the 3D1-series with this latest card featuring twin Geforce 6800GT graphic processing cores.
The Gigabyte GV-3D1-68GT videocard comes packing 512MB of GDDR3 memory (256MB exclusively for each core), and conforms to the PCI Express x16 formfactor. With two GPUs the card is able to support up to four monitors simultaneously; two DVI and two analog! Make no mistake, the Gigabyte GV-3D1-68GT is aimed directly at the hardcore gamer - both in terms of its performance goals and price.

Gigabyte GV-3D1-68GT Videocard




Includes:

Users Manual, Driver CD, Xpand Rally CD, Joint Operations: Typhoon Rising CD, 2x DVI to analog converters, Dual Analog Bracket, S-Video to Composite Cable, Dual Molex to 6 pin power cable
With an exact weight of 990grams, the Gigabyte GV-3D1-68GT videocard is a substantial piece of hardware. Much of that weight is the direct result of the two large gold-coloured aluminum heatsinks which are mounted on each side of the videocard with eight screws.
A single nVidia Geforce 6800GT videocard can run pretty warm when processing complex 3D graphics, and two distinct GPUs certainly make for a very intensive thermal equation.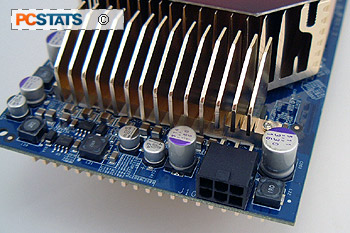 Toss in a small mountain of BGA DDR3 memory modules, and power circuitry, and we have a videocard that has a lot of heat to dissipate.
The Gigabyte GV-3D1-68GT utilizes a single PCI bracket to restrain itself in the PCI Express x16 socket (and just one single screw, so tighten it well), though it effectively takes up three PCI brackets worth of space. The additional jumper with the two analog video jacks isn't able to sit flush in the next PCI slot down, which we'll go over in just a moment.
The card physically measures 255 x 100 x 50 mm in size, so keep in mind there will be some compact cases which may not be able to accommodate its length. Small formfactor PCs are most certainly out of bounds for the Gigabyte GV-3D1-68GT too (not to mention its SLI motherboard requirements are very specific).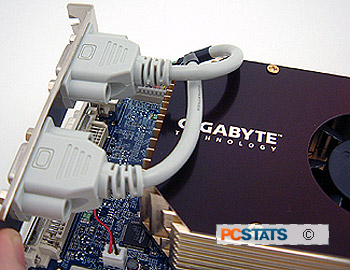 nVidia's GeForce 6800GT GPU requires a fair share of power within the total computer system. This might lead you to assume that the Gigabyte GV-3D1-68GT requires twice as much, but this is not so. The GV-3D1-68GT can get away with just one 12V six pin power connector, and we'd recommend the PC be equipped with at least a 450W PSU.
Natively the Gigabyte GV-3D1-68GT can support dual DVI displays (two digital LCD goodness!), and as you might expect the manufacturer includes two DVI-to-analog converters. Should you need the desktop real estate, the GV-3D1-68GT also includes a dual analog output bracket which means the GV-3D1-68GT can run four monitors at the same time!
There is a slight problem with where this bracket can go however. Because the Gigabyte GV-3D1-68GT's heatsink is so large, it is impossible for the analog bracket to be installed in the expansion slot just below the videocard.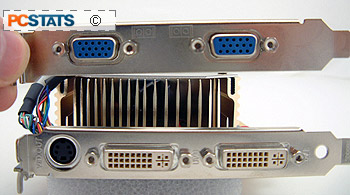 Gigabyte's nForce4 SLI motherboards place the first PCI Express x16 slot one slot lower, so this bracket can sit just above the videocard if it is being used.
Almost all GeForce 6 series videocards support component output, which is why it is initially surprising to see that the Gigabyte GV-3D1-68GT only sports S-Video output. After considering its intended audience, hardcore gamers, this choice is understandable.
The GV-3D1-68GT's software suite is decent, and it includes two full version games: Joint Operations: Typhoon Rising and Xpand Rally. Both titles should keep users busy for a solid weekend or two. PowerDVD is also included on the driver CD.
On the back of the Gigabyte GV-3D1-68GT are two dip switches, this allows the user to set the GV-3D1-68GT to run in either single or dual GPU mode. When set to dual however you can only get SLI working if you use the GV-3D1-68GT videocard in a Gigabyte motherboard. We will discuss a bit later why...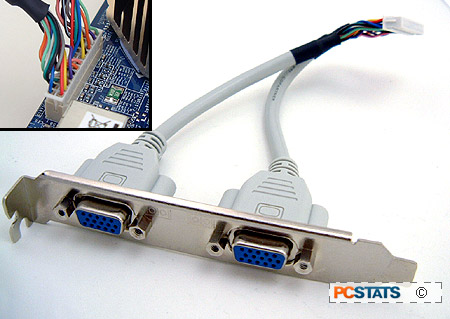 You'd better have good case cooling if you plan on using the Gigabyte GV-3D1-68GT videocard. The card itself is adequately cooled with its large heatsinks, however its those heatsinks that may cause a problem with Athlon64 motherboards. The issue is, the videocard heatsinks sit directly in front of the chipset fan which hinders chipset cooling ability. Not just that, because the videocard is so large, it may also block Serial ATA channels as well. On Gigabyte's own GA-K8NXP-SLI motherboard, the GV-3D1-68GT blocks three out of four of the nForce4 SLI's Serial ATA II channels.
Best to make sure you have a lot of space in your case and around the motherboard if you are contemplating picking up the Gigabyte GV-3D1-68GT.