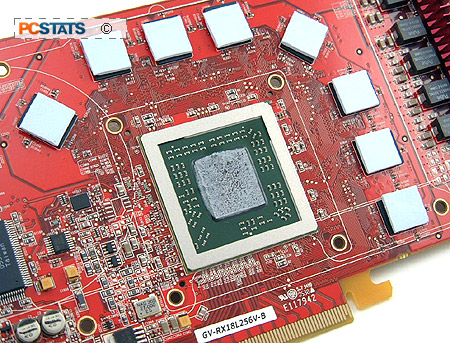 The ATI Radeon X1800 XL VPU is built on TSMC's 0.09 micron manufacturing process and sports an amazing 321 million transistors.
The X1800 XL 'R580' core has sixteen pixel rendering pipelines as well as sixteen texture units, render backends and Z Compare units. It can handle up to 512 threads. The R580 core comes clocked at 500 MHz, while 256MB of memory hums along at an even 1 GHz.
One of the biggest new features of the ATI Radeon X1000 series VPUs is that it brings Shader Model 3.0 support across the board from low to high end chips.
nVIDIA was previously the only vendor that supported SM3.0, so the inclusion of this technology levels the playing ground once more. Lack of SM3.0 support was a major knock against previous ATi videocards.
That lack of SM3.0 support was somewhat understandable because the R480 was based on the previous R423 core, and that GPU which did not support the feature because games in those days did not use SM 3.0. Perhaps following on nVIDIA's PureVideo lead, that card also comes with some technology ATI term 'AVIVO. What AVIVO does is accelerate High Definition content, among a few other tricks. We'll touch base on that in a moment.
experts tip: picking the right driver
when searching for future driver updates, ati radeon x1000 series users have to make sure they choose the driver package that includes the catalyst control center. the catalyst control center will allow users to adjust 3d settings, monitor profiles, avivo options, etc. the older control panel familiar to ati users does not support the new radeon x1000 series videocards.
Comments and Feedback? Suggest a Tweak.
While the specifications of the ATI R580 core are impressive compared to the previous generation, there is a sense of disappointment amongst the enthusiast crowd. Considering the amount of time ATi spent on the R580, its unfortunate that the company allowed the pixel pipeline to remain at sixteen (the same as the previous generation). With nVIDIA upping the ante by making the GeForce 7800GTX a 24 pipeline videocard, everyone (including yours truly) expected ATi to follow suit eventually.
The 16 pipeline R580 core is not worse than nVIDIA's G70, it's just different. Think about it this way; ATi went with a Pentium 4 style approach: less work, higher MHz. ATi has built future compatibility into the F580 core since it is able to address up to 1GB of memory as well as use GDDR4 DRAM when it is readily available.