XGI Reactor drivers allow the user to adjust a variety of options with the Volari 8300 GPU; these are pretty standard controls that consumers have come to expect with every graphics card. When dual monitors are connected to a Volari 8300 graphics card, the Reactor drivers yield control over multiple desk tops to the user, allow gamma correction adjustments, and can even rotate the desktop 360 degrees.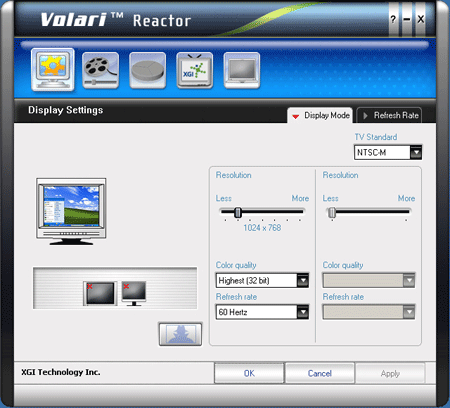 After loading up the XGI Volari Reactor drivers, users are first greeted by the general display options. Adjustable options include resolution, colour depth and refresh rate. TV-Output options are also available for users who want to connect the computer to the television.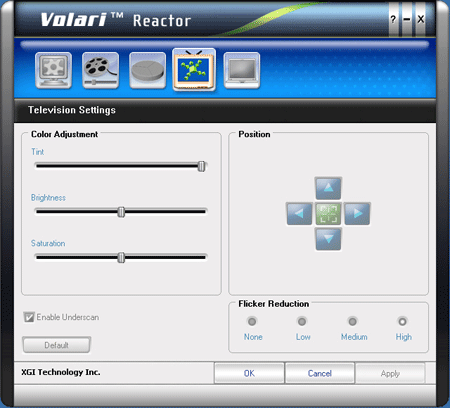 In the Television options users can adjust the tint, brightness and saturation of the picture. There are also options to reduce flicker which definitely makes a difference when watching movies on the TV.

PCStats Test System Specs:
processor:

amd athlon64 4000+

clock speed:

12 x 200 mhz = 2.4 ghz

motherboards:

asus a8n-sli premium (nf4-sli)

videocard:

powercolor x700 pro
msi nx6600gt-td128e
msi nx6200tc-td32e
xgi volari 8300 reference card

memory:

2x 512mb ocz pc3500gx gold memory

hard drive:
74gb wd raptor 10k rpm sata hdd
cdrom:
aopen 52x combo
powersupply:
pc power & cooling turbocool 510 sli
heatsink:
stock athlon64 4000+ hsf
software setup

windowsxp build 2600
nforce4 6.70
catalyst 5.11
detonator 81.95

benchmarks

3dmark03
splinter cell: chaos theory
farcry
the xgi volari 8300 was spared overclocking tests because none of the overclocking programs available could recognize the videocard. also the benchmark suite was cut down because the xgi volari 8300 could not complete many tests.