XGI has flourished quite well in the Asian market due to its low prices that resonate strongly with consumers. In North America, XGI is facing a more difficult path largely because of the competition put forth by comparable ATI and nVidia graphics cards that are marginally more expensive, but generally much more feature rich.
The winds of change are starting to blow for XGI however, so much so that Tyan is even using the Volari Z7 graphics core on its Tomcat K8ESLI entry-level server motherboard. Tyan is known for reliability, and the inclusion of this Volari graphics chipset says much for a segment which has traditionally been occupied by ATI Rage Mobility IGPs.
In any case the focus of this review is the XGI Volari 8300 videocard. The Volari 8300 a native PCI Express GPU, and it's intended to compete in the entry level market with a handful of home theatre PC oriented capabilities that should make it stand out. In terms of 3D gaming, the Volari 8300 directly competes with the Nvidia GeForce 6200TC and ATI Radeon X300SE videocards. While that might not make a gamer's heart beat in excitement, the video output capabilities of this value segment graphics card just might...
The basic tech specs of the XGI Volari 8300 include a UMC 0.13 micron manufactured GPU with a 90 million transistors, support for Shader Model 2.0, DirectX9, OpenGL 1.5 and WinVista Aero Glass standards; which means in theory it supports all the latest games on the market, and the upcoming Windows Vista operating system. The Volari 8300's 'XG47' GPU and memory are both clocked at 300 MHz. We'll go into the technology in detail momentarily, but first a quick overview of the reference solution. The Volari 8300 utilizes 128 MB of memory, and when running in 3D mode it occupies a bit of system memory care of Volari's eXtreme Cache architecture.

| | | |
| --- | --- | --- |
| | XGI Volari 8300 Reference Videocard | |
| | | |
The PCI Express x16 XGI Volari 8300 reference card is refreshingly small, and the XGI Volari 8300 GPU can get by with a simple active aluminum heatsink. If a user desired, the Volari 8300 GPU can even be run passively with a moderately sized aluminum heatsink. Since the XGI Volari 8300 is based on a reference design, we will forgo the usual videocard hardware descriptions and just mention that it comes equipped with both a DVI and analog display connector, and supports dual monitors. There is also a S-Video output connector for hooking up the PC to a television.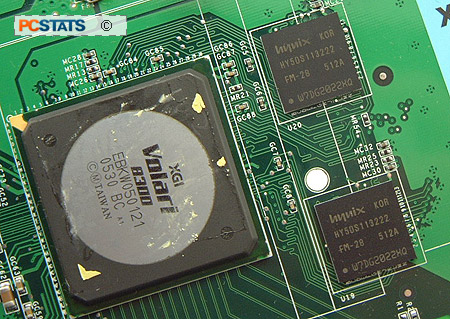 The Volari 8300 Graphics Core
The XGI Volari 8300 GPU is built on UMC's 0.13 micron manufacturing and has a transistor count of 90 million. The core uses a PBGA (Pin Ball Grid Array) packaging. Architecturally, the Volari 8300 GPU is equipped with a 2 x 2 pixel pipeline, which means it has the same number of pixel rendering pipelines as an nVidia Geforce 6200TC / Radeon X300SE, but more Texel pipelines (600 million Pixel Fill rate/1200 million Texel fill rate).
The total memory bus bandwidth is 64-bits, and that is broken up into two separate 32-bit memory controllers for a maximum theoretical bandwidth of 5.6GB/s. The Volari 8300's memory controller only supports DDR memory, and as such there is 128 MB of Hynix HY5SD113222 BGA DDR RAM on the reference videocard.
When running in 3D mode, the 128 MB frame buffer stores the data which is on the screen, and eXtreme Cache technology dynamically allocates up to an additional 128 MB of system memory to use as video RAM for additional/miscellaneous textures. The GPU runs at 300MHz, as does the memory. The Volari 8300's dual 350 MHz RAMDACs translate into decent 2D display support at resolutions up to 2048x1536 pixels.
As mentioned earlier, the XGI Volari 8300 TruShader SE graphics engine is DirectX 9.0 compatible and adheres to Vertex Shader 2.0 and Pixel Shader 2.0 standards. This allows casual gamers to load the latest games, but to be realistic performance will be minimum even at lower resolutions.
experts tip: flicker reduction is important!

computer crt monitors and televisions are very different beasts from a frequency standpoint, and tv flickering is one of the most annoying issues for htpc users. xgi had enough foresight to see that this problem and addresses it in its volari reactor drivers. first users will want to right click on the desktop and go to properties. from there click the settings tab, then the advanced button then the volari reactor button. click the television settings button and on the lower right hand corner are the flicker reduction options. now select the option that works best with your tv. note, have the computer attached to the television before hand to test these options.

Comments and Feedback? Suggest a Tweak.
One very neat feature of the XGI Volari 8300 is its Cool Power II technology which handles videocard power management. Cool Power II dynamically adjusts core/memory clock speeds depending on video load and supports Intel's Device Performance States (DPS) as well as PCI Express Active State Power Management (ASPM). According to XGI, the power consumption of the Volari 8300 can dip down to as low as 13W!