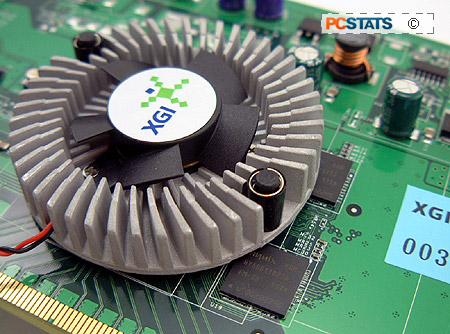 With every player in the computer industry shuffling for position for the digital home, XGI believes its new 8300 GPU has what it takes to compete with the big boys. Instead of focusing on mainstream options like 3D performance, XGI equipped the Volari 8300 core with some really good TV output features.
Built on 0.13 micron manufacturing process, the XGI Volari 8300 GPU is a low power solution which makes it ideal for environments where added fan noise is most certainly unwanted. The 128MB of onboard memory and dual 350 MHz RAMDACs allow the card to support resolutions of up to 2048x1536. The Volari 8300 GPU also supports a whole array of TV output options from traditional S-Video/Composite to HDTV resolutions up to 720P/1080i.
Technically speaking, the XGI Volari 8300 is DirectX 9.0 compatible, however it is unrealistic to expect much more than passable frame rates at low resolutions with minimal details turned on. That shouldn't be much of an issue though, the XGI Volari 8300 GPU is not targeted as a gamer's videocard and 3D performance of the Volari 8300 is similar to nVIDIA's GeForce 6200TC GPU.
In order to save energy, XGI has implemented its Cool Power II technology into the Volari 8300 core which dynamically adjusts the videocard core and memory speeds depending on video load. It is fully compatible with Intel's Device Performance States as well as PCI Express Active State Power Management. According to the manufacturer, power consumption is as low as 13W at idle.
The area where XGI really shines is with its TrueVideo engine that is integrated into the Volari 8300 GPU. Unfortunately XGI was a bit short on specifics, but the gist of the situation is that the TrueVideo engine supports improved quality scaling, 3:2 pull down correction, inverse telecine, special de-interlacing and special edge smoothing. It sounds like a lot of marketing hype but TrueVideo does produce a very nice video picture. Playing the accompanying Friend's DVD in PowerDVD 6 (with hardware de-interlacing enabled) we saw video quality that was a step above most others.
Objects in the background were still sharp, and more lifelike than with competing videocards. XGI's edge smoothing also adds a nice polish to the screen. XGI's improved de-interlacing was particularly impressive, and software de-interlacing really compares very poorly.
The XGI Volari 8300 PCI Express x16 reference videocard has some very good multimedia capabilities and make it a viable low-cost option for users assembling a home theatre PC, or 2D workstation machine. Retail prices of XGI Volari 8300 based videocards are not known yet however XGI is targeting the entry level market so it should be quite inexpensive. The Volari 8300 might just be what XGI needs to break into the North American market, and it has the potential to lead the way towards the digital home.
Find out about this and many other reviews by joining the Weekly PCstats.com Newsletter today! Catch all of PCstats latest hardware reviews right here.
Related Articles
Here are a few other articles that you might enjoy as well...
1. Asus EN7800GT 2DHTV/256M/OSP/A Videocard Review
2. MSI NX7800GTX-VT2D256E SLI Videocards Review
3. Gigabyte GV-NX78X256V-B Geforce 7800GTX Videocard Review
4. Albatron GeForce 7800GTX Videocard Review
5. MSI NX6800TD-128E Geforce 6800 SLI Videocard Review