The second, and much more convenient way to regularly access data on the DataTraveler Elite from a few standard PCs is to enable the "Trust Option." This allows the user do designate certain computers as 'trusted computers,' enter the password once, and then whenever the DataTraveler Elite is inserted the encrypted partition will be accessible without having to log in each time. The trusted computer designation can be revoked at any point if need be, and the DataTraveler Elite will return to its previous state of password protected access.
Hacking Passwords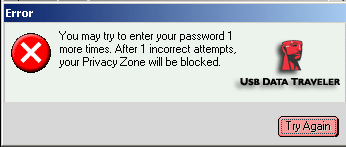 A lot of encryption utilities require a public and private key to work, or allow access which is specific to a certain PC, or computer with special software and the right public key. The Kingston DataTraveler Elite is self contained in the sense that everything it needs to encrypt, decrypt, and access the files is stored on the unit itself. The password hash is even kept on the unit, so according to Kingston's technical materials, there is little chance of it being scooped by a third part unknowingly.
Furthermore, to defeat password busting programs the DataTraveler Elite will automatically lock out the private zone after 25 consecutive failed password attempts. If that happens you will never again be able to access the data on the private encrypted area of the DataTraveler Elite, and neither will anyone else. It's a harsh security regime, but Kingston's MyTraveler software (it ships with the unit) incorporates folder synchronization tools to ensure that there is always at least one other backup on a computer elsewhere.
Data on the public portion of the DataTraveler Elite will still be accessible, and we'd recommend backing it up first if you try this out as the 26th failed password attempt will reset the private zone and prompt you to reset the encrypted partition. Doing this formats the entire 2GB of storage space, including those which were not encrypted. At the very least, Kingston built the DataTraveler Elite with enough sense to leave one very necessary file remaining, the 1.04MB TravelerSafe+ application.
MyTraveler Software
The Kingston MyTraveler software rounds out the tools provided with the DataTraveler Elite that make its 128-bit AES encryption a very feature rich, and reliable to use. The DataTraveler Elite is a 2GB USB flash drive on its own without any of these programs being necessary, but if you are using the encrypted area to store files PCSTATS highly recommends that backups be made.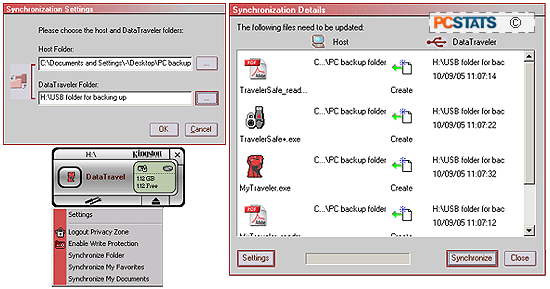 Folder synchronization is the easiest way to do this, and the program will work within or without the encryption applied. It's a good habit to use it either way really. Up next we'll be benchmarking this USB flash drive with and without its hardware encryption co-processor engaged to see what kind of data transfer speeds we can expect from the DataTraveler Elite.