Do you remember the last day you used a 1.44MB floppy disk to store and carry around some work or school files? I'll bet it was a long, long time ago... The USB flash drive was one of those inventions that quietly snuck up on our lives, replaced the loyal floppy disk without anyone noticing, and then all of sudden was the de-facto standard for personal data storage and portability.
The convenience of this portable storage device has improved over the years; first with a transition from USB1.1 (12Mbits/second) to the USB2.0 (480Mbits/second) standard, and then with subsequent storage capacities which massively dwarf the initial 16MB models.
Hi-speed USB jacks now come standard on every PC sold, be it MAC, Linux or Windows based. It has allowed for a proliferation of USB devices to flourish, some of which offer data storage bundled in with an 801.11b Wifi adaptor, an MP3 player, a fingerprint scanner, or half a dozen other doohickey's. The availability of sup-512MB USB flash drives has made it possible to run software, email clients, and even compressed operating systems from these tiny little devices.
Voluminous storage capacities that now surpass the 2GB threshold are enabling users to store lots and lots of data on a device which has no intrinsic security structure at all. There is no login, no password, no lock on a USB flash drive. Whomever has the device, has full and unfettered access to all the information it contains. Plug it in, open up a folder and there it is. Recovering lost and accidentally erased data is one thing, but what happens if you loose a 2GB USB drive packed full of confidential information, or that special spanakopita recipe?

Kingston DataTraveler Elite 2GB

Includes:

Instructions, lanyard attachment.
Encryption is one way data can be maintained in a relatively secure format on any portable storage medium, but there are complexities with choosing the appropriate software and being diligent in its use. That's not to say running a small software encryption program to safeguard data on your USB flash drive is difficult, it's just that it makes moving data between the computer and device time consuming. Software encryption programs can also demand a lot from the host PC, because part of the computers' CPU cycles are occupied by the encryption algorithm each time it encrypts or decrypts a file.
Kingston Technology has developed a novel product to address USB flash drive data security issues, while maintaining the quick data transfer speeds that USB2.0 affords. It has done this by embedding a hardware-based 128-bit Advanced Encryption Standard (AES) co-processor to handle all algorithm processing within its flagship DataTraveler Elite series USB flash drives. The hardware encryption co-processor works in conjunction with Kingston's TravelerSafe+ software to encrypt/decrypt files stored on a specified portion of the USB flash drive that is created by the owner. The entire AES-128 encryption process is transparent to the owner, and does not diminish transfer speeds nor draw CPU cycles away from the host PC.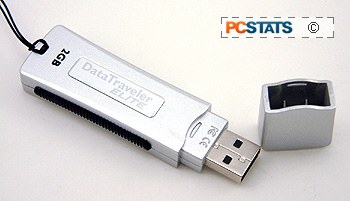 The owner can create 'public' and 'private' partitions in the DataTraveler Elite of whatever size they choose (totalling the capacity of the USB drive), and control access to the encrypted files via a password. The password is stored in an encrypted format on the USB drive so it travels with the data, instead of tying the user down to one PC in particular.
Brute force password hacking is foiled by an automated reset function which triggers after 25 consecutive failed login attempts; leaving the only other option to format the entire 'private' partition. Encrypted data is thus inaccessible to whomever attempted to gain unauthorized access, and to the rightful owner as well. Kingston circumvents the obvious questions that arise from this harsh stance on password security by including the 'MyTraveler' software which has a data synchronization applet.
The 2GB Kingston DataTraveler Elite USB flash drive retails for about $180USD ($200CDN), is protected by a five year warranty, and includes free tech support through kingston.com/support. All the necessary software applications are stored on the device, as is a PDF copy of the manual. No USB extension cable is provided, but a small cord to attach a lanyard to the DataTraveler Elite is tucked away with the warranty card. The password protection and data encryption software is compatible with Win98SE, Windows 2000, and Windows XP operating systems. Mac 9.x and Linux 2.4 will support the USB2.0 device, but not its hallmark encryption capabilities.
The DataTraveler Elite measures 78x10x21mm in size and has a single blue/red LED at one end to indicate data transfer activity and USB1.1 or a USB2.0 connection to the host PC. The cap over the male USB jack clips on lightly, and will most likely get lost in the first week of use.