We've tested a couple different USB flash drives at PCstats recently, and the main spec you'll want to watch out for is if the device is 'USB2.0' compliant, not just if it will work with a USB2.0 port. Devices which communicate at USB2.0 speeds do so at 480Mbits/second. This is sometimes also called Hi-Speed USB. On the other hand, USB1.1 (or just USB) devices communicate at 12Mbits/second by comparison.
Not all PCs have USB2.0 ports, but you can quickly check your system by going to the 'Device Manager' under 'My Computer', and expanding the 'Universal Serial Bus' section. If you see an entry along the lines of 'Enhanced PCI to USB Host Controller' present, then your system has USB2.0 ports. Different motherboard chipsets support different numbers of USB2.0 ports, so consult your motherboard manual to find out which USB ports on the board are 'Hi-Speed.'
SiSoft Sandra 2005
Source:Sandra
Sandra is designed to test the theoretical power of a complete system and individual components. The numbers taken though are again, purely theoretical and may not represent real world performance. Higher numbers represent better performance.
Sandra 2005 Benchmark Results

Device:
Interface:
Size:
Buffered Read :
Sequential Read :
Random Read :
Buffered Write :
Sequential Write :
Random Write :
Gigabyte GO-U0128B
USB2.0
128MB
8 MB/s
8 MB/s
8 MB/s
3382 kB/s
7 MB/s
2264 kB/s
Crucial Gizmo
USB1.1
256MB
898 kB/s
898 kB/s
898 kB/s
765 kB/s
892 kB/s
759 kB/s
Crucial Gizmo 2.0
USB2.0
512MB
5 MB/s
5 MB/s
3559 kB/s
1657 kB/s
5 MB/s
1117 kB/s
Corsair Flash Voyager
USB2.0
512MB
17 MB/s
17 MB/s
14 MB/s
2641 kB/s
11 MB/s
7 MB/s
Kingston DataTraveler Elite
(w/o encryption)
USB2.0
2GB
22MB/s
22MB/s
22MB/s
9MB/s
11MB/s
5MB/s
Kingston DataTraveler Elite
(w/h encryption)
USB2.0
2GB
22MB/s
22MB/s
22MB/s
8MB/s
11MB/s
5MB/s
With the DataTraveler Elite operating in its encrypted zone, data is read at an even 22MB/s across the board. When encryption is disabled, the read transfer rates are exactly the same, 22MB/s. This is just a bit shy of the manufacturers listed spec of 24MB/s.
The DataTraveler Elite posts data write speeds which are virtually identical regardless if AES-128 encryption is enabled or not. The only difference is between buffered write tests, where the tests writing to the encrypted zone on the DataTraveler Elite were slightly slower at 8MB/s according to Sandra 2005.
128-bit AES Hardware Encryption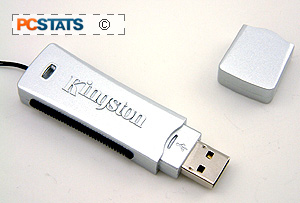 To really understand the usefulness of the Kingston DataTraveler Elite 2GB USB flash drive, just imagine a situation where you loose a 2GB USB drive chocked full of confidential data.
Whomever finds that lost USB drive has access to all that data, to do with as they please, unless it is encrypted in some way. For most consumers this scenario isn't something they would loose sleep over, but for corporate employees or executives such a loss could be quite serious.
The method Kingston has built into the DataTraveler Elite to secure data is unique in that it applies 128-bit AES encryption to the files with a hardware co-processor. The encryption itself is not so remarkable, AES-128 is a commonly used tool, but it is how the data is processed that makes this USB flash drive different. With an onboard hardware co-processor the host PC is not tasked with the algorithm processing, has no access to the owners hash key, and is essentially unaffected by the entire encryption process. Effectively, encrypted and non-encrypted data transfers are no different in terms of speed, and we've seen this with the benchmarks.
In our experiences with the Kingston DataTraveler Elite, managing data to and from the device with and without the encryption enabled is pretty straightforward. Data speeds of 22MB/s read and 11MB/s write were in line with the manufacturer's listed specs. The included TravelerSafe+ encryption software is dead simple and easy to use, but limited to Windows operating systems. This is unfortunate because Mac and Linux users are left without the ability to use the DataTraveler Elite's encryption functionality.
The password reset feature which protects encrypted data from password hacking makes it mandatory that users take steps to backup data stored on the DataTraveler Elite. That should be common sense for anyone using a portable device. The 2GB DataTraveler Elite retails for about $180USD ($200CDN), so there is a price premium at play above standard 2GB USB flash drives. However, what the user gets in return is well worth it. The Kingston DataTraveler Elite is a 2GB USB flash that handles its data quickly, regardless of whether it is encrypted or not, and that is what makes it a great personal storage device.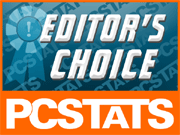 Find out about this and many other reviews by joining the Weekly PCstats.com Newsletter today! Catch all of PCstats latest hardware reviews right here.
Related Articles
Here are a few other articles that you might enjoy as well...
1. Beginners Guides: USB Memory Drive Projects
2. Vantec NexStar GX USB2.0 Hub & HDD Enclosure Review
3. Corsair Flash Voyager 512MB USB Flash Memory Review
4. Crucial Gizmo 2.0 512MB USB Hard Drive Review
5. Vantec NexStar 3 USB2.0 HDD Enclosure Review