The advent of the digital camera eventually led to the equally rapid demise of film photography. The alluring newness of digital sensors, displays, and storage mediums drew us all in quickly, while the cost of a roll of film and developing faded quietly into the ether. Then the realizations hit... just at the moment when the memory cards started blinking "full." Now what?
Half the point of making a visual record of an event or person is to share that picture, isn't it? Digital images certainly allow easy manipulation and transmission to any corner of the globe electronically, but gathering friends and family around the computer to look at vacation photos is inconvenient. Those pictures are pretty much locked inside the computer; they can't be framed, can't be scribbled on or mailed to one's relatives in a card either.
The solution to getting the 'digital' out of photography is something you're already undoubtedly aware of - personal photo printing. This was at first a messy tagged-on feature for colour inkjet printers, but now it's a fully fledged product segment populated most notably by the Canon Pixma & Selphy, HP Photosmart, Samsung's SPP series and Epson's PictureMate photo printers. Canon maintains the market share by far, but Samsung's introduction of a compact dye sublimation (dye diffusion thermal transfer) printer that can do its thing straight from memory cards is certainly not going unnoticed.
In a way photography has come full circle; the only difference is that now our digital image files are taken in for printing. Ironically though, digital photo prints are still held up against the standard 3"x5" glossy throwback from the Photo-Hut... film, now nearing obsolescence, is still the benchmark for image quality, colour stability, and relative imperviousness to water and smudgy fingers.

Samsung SPP-2040 Colour 4"x6" Photo Printer

Includes:
Instructions, quick start guide, DC adaptor and power cable, software, starter paper and colour film cartridge.
The Samsung SPP-2040 Photo Printer being put through its paces in this PCSTATS review prints 4"x6" glossy photo's via the dye sublimation process directly from any of six common flash media formats, incorporates a folding 2" colour LCD screen for previewing images, and can connect directly to PictBridge-enabled digital cameras.
The SPP-2040 photo printer retails for around $150USD ($170CDN) with a 10 print starter pack tossed in for good measure.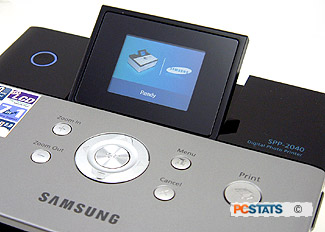 Replacement dye-sub film cartridges and 4"x6" glossy paper bundles come in matched sets that range in cost from approx. $47USD for the 120 ribbon & sheet kit (IPP-46120G), to about $28USD for the 40 ribbon & sheet kit (IPP-4640G). We'll look at the cost breakdowns in a moment.
The Samsung SPP-2040 will print a colour 4"x6" image in about 70 seconds or less at 300x300dpi, and it allows some simple image manipulation without the need for a computer.
For example, using the SPP-2040's console buttons and 2" LCD screen to enter into the setting menu, you can break up a single 4"x6" sheet into multiple wallet sized copies (up to 16), do 'n-up' printing, and zoom/crop images.
Along with an optional USB1.1 Bluetooth dongle (SPP-00BA, not included) that plugs into the side of the SPP-2040, the unit can be printed to wirelessly. It can just as easily work directly from a computer over the primary USB2.0 cabled connection.
When printing directly from flash media, the Samsung SPP-2040 can tackle images up to 5120x7680 pixels in size and no smaller than 40x60 pixels. In terms of image formats, JPEG is a go, as is non-compressed TIFF and 24-bit BMP image files. Images in the RAW format are not supported.
Samsung's SPP-2040 Photo Printer will work with Windows 98/2K/XP and Mac OS10 systems over a USB2.0 connection, and supports printing from CompactFlash Type I and II (CF), SmartMedia (SM), Secure Digital (SD), MultiMedia Card (MMC), Memory Stick (MS) & Memory Stick-PRO, and xD-Picture Cards (xD) directly from the console.

The SPP-2040 is under warrantee for a period 1 year (or 2000 sheets), so it's clearly not intended for heavy-duty print loads or commercial use. The unit comes with AC power adaptor, paper cassette, USB A-B cable, user's guide & software CD, and a 10-print starter set of glossy paper and dye-sub ribbon cartridge in a rather fancy Mac iPod-esq black box.