Memory manufacturers are using overclocker tricks to get memory to run faster and faster. The secret as any enthusiast will tell you, is to loosen up the memory timings and/or increase the voltages.
The SPD module on the Patriot PDC22G8000ELK DIMMs automatically loosens the memory timings (when the settings are set to SPD) as the memory clock speed increases. There is no memory on the market which can reach DDR2-1000 speeds without a voltage increase, for the PDC22G8000ELK to hit that, memory voltages need to be around 2.1V. Patriot warranties its memory up to 2.3V so overclockers need not worry about voiding anything. ;-)
Differences When Testing DDR-2
With dual core processors thrown into the mix, testing DDR-2 RAM is a lot more difficult than before. Socket 775 Pentium D processors do react positively to lower latency timings, but bandwidth is the bigger issue. This makes a lot of sense if we consider that an Intel Pentium D processor is essentially being dropped into Pentium 4 subsystems that was only really intended to support one processors' worth of memory bandwidth requirements.
From PCSTATS Lab tests, even though the second core sits idle for many benchmarks, bandwidth is still the primary issue with Intel Pentium D processors since the OS does communicate to the second core while the benchmarks are running. With that in mind, when it comes to testing out DDR-2 memory modules, we are really only interested in seeing how high the memory can clock with latency timings coming in as a far second concern.
Patriot Overclocking

Overclocking Results:

Overclocking DDR2 memory can be a difficult task since trying it is a juggling act at between memory timings and frequency. Also with Intel retail processors multiplier locked, enthusiasts have to keep in mind that the processor could end up limiting things.

Keeping the tight 3-4-3-10 timings first, it would be interesting to see how high the Patriot PDC22G8000ELK memory could clock. Going up slowly, the memory easily hit DDR2-800 speeds with only a slight voltage increase to 1.9V. Continuing to push the memory harder it was a pleasant surprise to see the Patriot memory crack the 900 MHz barrier too.

In the end, the Patriot PDC22G8000ELK settled for a top speed of 940 MHz with 3-4-3-10 memory timings and a voltage of 2.2V. Anything higher and the system would be unstable while running benchmarks, pretty impressive so far.

Next up we'll see how this Patriot memory overclocks with loose timings...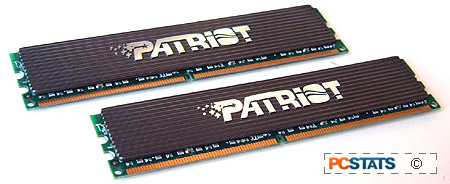 With the timings set at 5-5-5-12, the Patriot PDC22G8000ELK memory frequency was increased from 940 MHz upward. Without much trouble the memory broke through the 1 GHz threshold, however maxed out at 1020 MHz which is the same speed as the Super Talent PC2-6400 memory achieved. Perhaps this is the top speed of the test setup that we're using? At 1020 MHz (or 255 MHz FSB) the Pentium D 840 processor is running past 4 GHz and is most likely maxing out.
Because the maximum overclocked speed is so close to its abilities with CL5 timings, benchmarks were not run with the memory overclocked. The difference between the memory running at 1000 MHz and 1020 MHz will be virtually nil.
Benchmarks are up next, so follow the bouncing ball.