Enthusiast calibre RAM usually only comes in one of two forms; high speed memory with lax timings or lower speed memory with tight timings. Making a decision at this crossroads will have a big impact on your PC's performance, and for most of us it's confusing as to which route is the best to follow.
PCSTATS has long been singing the performance praises of low latency memory, but even modules that qualify have their limits. What's needed is more versatile memory, technology infused into DRAM so those little BGA chips run with tight timings at low latency speeds... allowing the holly grail of memory performance: Dual Channel DDR-2 RAM that cranks out the MHz while the timings are kept nice and relaxed.
This pair of Patriot's PDC22G8000ELK 1GB DDR-2 memory fits the bill, but these modules are so utterly new, so bleeding edge that you can't have them. Sorry, this is a first glimpse at some very sweet memory which is not quite yet available...
What sets this pair of PC2-8000 DDR2 memory apart from the competition is that it's capable of three different frequency & timings settings. Basically, these Patriot PDC22G8000ELK modules do it all; the sticks clock to insane speeds for SiSoft Sandra folk and will also use tight timings for those who want the absolute best performance out of their PC rigs.
According to Patriot Memory, its PDC22G8000ELK memory is rated for a CAS Latency of 3 at DDR2-667 speeds, CAS 4 at DDR2-800 speeds, and to reach DDR2-1000 speeds a CAS Latency of 5. Those numbers are good news for AMD and its upcoming socket AM2 Athlon64 processor. The Athlon64 CPU traditionally reacts very well with low latency memory, and on the other side of the fence Intel users can appreciate how the memory clocks as high as the sky.
Have a look through the next couple pages of benchmarks, we'll be testing the Patriot Memory PDC22G8000ELK 1GB modules at all three speed settings. Just remember that these babies aren't quite ready for prime time yet, so there are no MSRP details. When they launch shortly, expect the price to be competitive with enthusiast memory of the same class.

Patriot PDC22G8000ELK
RAM Memory Type: DDR2-1000 / PC2-8000
Individual Module Capacity: 2GB
Native Speed & Latency: 1000 MHz @ CAS 5-5-5-15
Patriot equips its 1GB pair of PDC22G8000ELK memory with grey aluminum heatspreaders which help protect the DIMMs from physical damage. In most cases heatspreaders do little in terms of cooling. At modest speeds, memory just doesn't get very hot. With increased voltages and clock speeds though, enthusiasts do see some benefits from the added cooling so it's appreciated.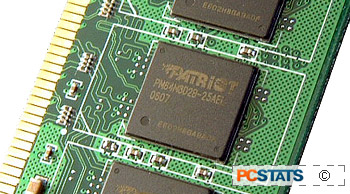 With Patriot Memory releasing the multi-talented PDC22G8000ELK set, it's hopefully signaling a change to the other memory manufacturers as well.
Enthusiasts are no longer fooled by high MHz ratings, especially with DDR2. Timings have gone completely out the window, that negates much of the benefits of running the memory at higher speeds. Other memory manufacturers should follow Patriot's lead here and release memory that is capable of reaching high speeds and running at tighter timings at slightly slower speeds.
According to Patriot, it remarks and uses Elpida PM64M8D2B-25AEL DDR-2 DRAM modules on its PDC22G8000ELK memory modules. Please note that DDR2 DRAM modules are very fragile and if the memory you're using comes with heatspreaders, it is not advisable to remove them! Doing so will void the warranty and if you kill your memory you're on your own!