The idea that there could be "jack of all trades" memory is a new one; in the past we either had to buy into the low latency or high speed fads.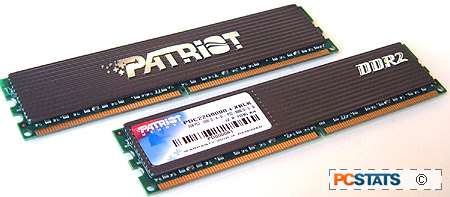 With this set of DDR2 memory, the best of both worlds is at hand.
Patriot Memory's top secret PDC22G8000ELK DDR2 memory is pretty amazing. Depending on the what the user wants, this memory can run at lower speeds with tight DDR2 memory timings or loosening things up and unleash its MHz overclocking potential. Enthusiasts looking to score a set of PDC22G8000ELK will have to wait since it hasn't quite reach the retail markets as of this writting, but should be available soon.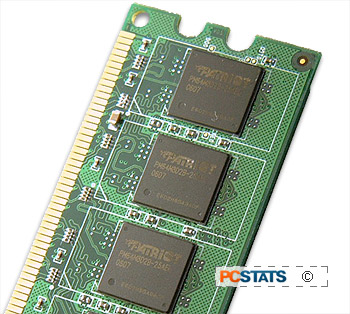 As you've seen from the benchmark results, higher frequencies do not always equal better performance. In some instances where the Patriot PDC22G8000ELK was running at DDR2-667 with tight timings, it would outperform some of the competition's faster memory modules. As PCSTATS has said in the past, speed isn't everything and timings play a key role in performance.
The Patriot PDC22G8000ELK is not just quick around the corners, in a drag race it's also pretty fast. With loose timings, the PDC22G8000ELK memory kit hit 1020 MHz with 5-5-5 timings. It's very possible that the Intel Pentium D 840 processor we used in the test platform is actually holding the Patriot memory from further greatness in this case.
With AMD's upcoming Socket AM2 Athlon64's supporting DDR-2 RAM, the 2GB Patriot PDC22G8000ELK DDR2-1000 memory is probably the most versatile set of DDR2 DIMMs uncovered thus far. The low latencies should keep AMD AM2 users happy once that CPU launches, and its ability to clock sky high will keep current Intel users satisfied as well. Keep in mind that the memory tested today is an engineering sample, and when the memory is available in the retail market it may be more refined. If you're looking for some new DDR2 RAM, Patriot Memory's PDC22G8000ELK kit it's definitely worth the wait.
Find out about this and many other reviews by joining the Weekly PCstats.com Newsletter today! Catch all of PCSTATS latest reviews right here.
Related Articles
Here are a few other articles that you might enjoy as well...
- Super Talent PC2-6400 T800UX2GC4 DDR-2 Memory Review
- Crucial Ballistix PC2-4200 DDR2 Memory Review
- Mushkin HP3200 Redline PC3200 DDR Memory Review
- Introducing FB-DIMM Memory: Birth of Serial RAM?
- Kingston 2GB DataTraveler Elite AES-128 Encrypted USB Drive Review