Overclocking Results:

Before we start overclocking the ABIT AN8 32X motherboard, the CPU multiplier is first lowered to 6x and memory frequency to 133 MHz mode. This way neither the processor nor memory will hold the motherboard back.

We began the testing more aggressively than with most motherboards, because the ABIT AN8 32X should be up to snuff. Increasing the motherboard clock speed in 10 MHz intervals went off without a hitch. The AN8 32X handled the abuse quite well. It easily cracked 250 MHz, which is a nice round number.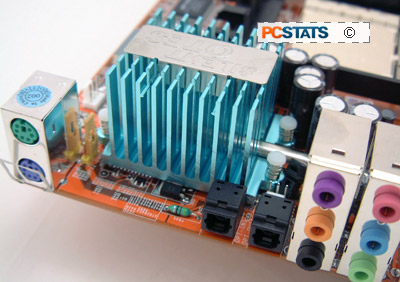 The overclocking progressed well a little further on, and then came to a screeching halt at 280 MHz. Anything higher than that speed caused the AN8 32x to refuse to POST (indicated by a 'C3' error on the port 80 card).
This warning message seemed to indicate a memory or memory controller error, however increasing the voltage to the DDR RAM and processor did not resolve it.
In the end we settled for an overclocked speed of 280 MHz with the AMD Athlon64 4000+ processor. It's decent, but in all honesty we had anticipated a much more from the AN8-32X motherboard.
Universal Scientific Industries and ABIT Merger
With ABIT near bankruptcy on March 21st 2006, USI (Universal Scientific Industrial Co. LTD) and ABIT announced a merger between the two to create a new company called Universal ABIT.
Now with strong financial banking, USI will assist ABIT with manufacturing and help accelerate its product lineup diversification. These steps, and a commitment to the ABIT brand will hopefully improve ABIT's competitiveness.
USI was quick indicate that ABIT will continue to service and support all of its past products so users with older ABIT products are not left out in the cold.
Next up, benchmarks, benchmarks, benchmarks! But first, a look around the BIOS.