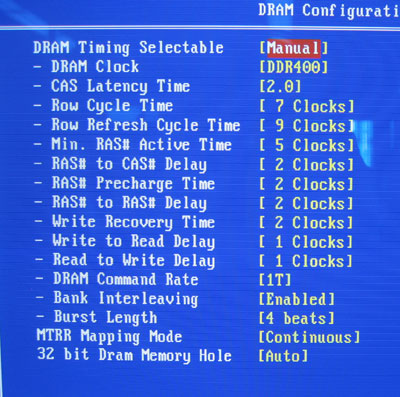 In the Advanced Chipset Features, users will find the DRAM Configuration Settings. In this area, hardware enthusiasts can adjust memory timings and fiddle with the same memory options that all other high end motherboards include. Tweakers will no doubt spend a lot of time in here trying to find the perfect settings.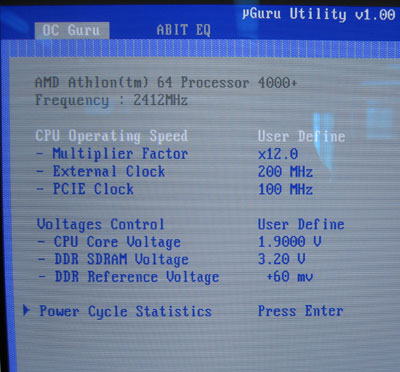 In the MicroGuru section, enthusiasts find the overclocking options. There are CPU clock multiplier options, the motherboard clock speed can be adjusted between 200-400 MHz in 1 MHz increments and PCI Express bus between 100-145 MHz in 1 MHz increments. CPU voltage goes as high as 1.9V and memory voltage to 3.8V, plenty for hardcore overclockers. Noticeably absent are chipset voltage options.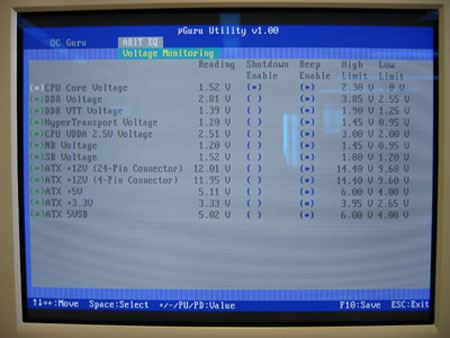 The ABIT EQ section contains a load of interesting info for hardware enthusiasts. ABIT's voltage monitoring section offers the most detailed numbers of any motherboard yet tested.

ABIT's temperature monitoring section also contains a whole wealth of information, not just processor temperatures...
Prelude to Benchmarks
The details of how the ABIT AN8 32x motherboard test system was configured for benchmarking, including the specific hardware, software drivers, operating system and benchmark versions are indicated below. In the second column are the general specs for the reference platforms this nVidia NForce4 SLI x16 system is to be compared against. Please take a moment to look over PCSTATS test system configurations before moving on to the individual benchmark results.

PCSTATS Test System Configurations