Up until now, gamers looking for a true high performance (and quiet) videocard had very few choices. The options usually ended up being a mainstream videocard that was overclocked heavily, or a high end videocard with an expensive after market heatsink. With the release of the Asus EN7800GT TOP Silent/2DHTV/256M, consumers now have an alternative that is fast and silent.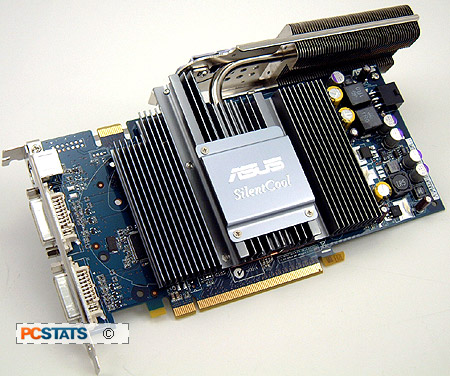 Of course passive cooling is not the only unique feature of the Asus EN7800GT TOP Silent/2DHTV/256M, it's also one of the fastest GeForce 7800GT videocards on the market out of the box. The clever Asus engineers were able to squeeze out a bit more performance out of the graphics core by teaming it up with some smoking 1.6ns GDDR3 memory.... and overclocking both slightly.
Asus is well known for its excellent software bundles and the one that comes with the EN7800GT TOP Silent/2DHTV/256M is as good as it gets. The videocard comes with seven full version games and its highlight is Peter Jackson's King Kong.
Multimedia users will appreciate the video software that comes with the package too, and the cards' VIVO capabilities and component output support
The ASUS SilentCool heatpipe cooler works wonders and keepings the Geforce 7800GT graphics core within acceptable temperature limits. During testing with minimal airflow, core temperatures never exceeded 70 degrees Celsius. Pretty amazing when you consider the reference cooler performs about the same and it is using a 50mm fan!
The only real issue with the Asus EN7800GT TOP Silent/2DHTV/256M we have, and the same could be said for most current generation videocards, is the lack of HDCP support. With Microsoft Vista operating system and high definition content right around the corner, lacking HDCP means people who watch videos on their computer or output to a high definition television (HDTV) might be out of luck. It's difficult to say how severe this issue will be without having the OS and HD DVD/Blu-Ray movies available... still.
experts tip: reset driver settings with rivatuner

all hardware enthusiasts enjoy tweaking drivers and kudos to nvidia for including many options in its driver control panel. one wrong tweak though, and performance can dramatically suffer or image quality will go down the toilet. sometimes new user will get into a little trouble playing with settings, and nvidia drivers don't always handle mix-ups with grace. While nVIDIA allows users to overwrite default options, it has no way of restoring everything in one go. This is where a program called RivaTuner comes in. If you need to restore driver settings to default, load up RivaTuner and click the triangle under the Driver setting, that will open up a new window. From there select the "Reset all driver's settings to their default values option", it will prompt you for a confirmation and after you click "yes", reboot the system. Once that's done the default nVIDIA driver settings will be restored.

Comments and Feedback? Suggest a Tweak.
3D Gaming Results
In terms of 3D capabilities, the Asus EN7800GT TOP Silent/2DHTV/256M's numbers speak for themselves. Thanks to the higher core and memory clocks, this PCI Express videocard performed better than a regular GeForce 7800GT in every benchmark.
If that is not good enough for you (and why should it be!), the EN7800GT TOP Silent/2DHTV/256M is fully SLI compatible also. We'd suggest you stick with identical videcards, as there might be core/memory clock issues with an alternate Geforce 7800GT solution. If overclocking is your game, the Asus EN7800GT TOP Silent/2DHTV/256M videocard is pretty well up to the task. The unit PCSTATS tested achieved an overclocked speed of 503 MHz core and 1360 MHz memory. At this speed, the Asus EN7800GT TOP Silent/2DHTV/256M performed close to that of a GeForce 7800GTX 256MB videocard, pretty impressive considering the '7800GT-version has less rendering pipelines.
At the moment the Asus EN7800GT TOP Silent/2DHTV/256M is difficult to find on the retail market but if you need something silent and deadly (no not like that), the EN7800GT TOP Silent/2DHTV/256M is exactly what the doctor ordered! It really does combine the best of performance and silence from what we've seen so far.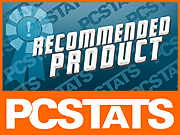 Find out about this and many other reviews by joining the Weekly PCstats.com Newsletter today! Catch all of PCSTATS latest reviews right here.
Related Articles
Here are a few other articles that you might enjoy as well...
- MSI NX7300GS-TD256E Videocard Review
- Asus EAX1900XTX 2DHTV/512M/A Radeon X1900 XTX Videocard Review
- Albatron GeForce 7300GS128 PCI Express x16 Videocard Review
- MSI NX7900GTX-T2D512E Geforce 7900GTX 512MB Videocard Review
- Albatron GeForce 6600 512MB Videocard Review
- PowerColor X800 GTO PCI Express Videocard Review
- MSI RX1800XT-VT2D512E 512MB-Version RX1800XT Videocard Review