Overclocking Results:
By default the Asus EN7800GT TOP Silent/2DHTV/256M is probably one of the fastest... if not the fastest... GeForce 7800GT's on the market. The reason is that Asus overclocks both the core and memory pretty heavily by default.
The standard GeForce 7800GT core runs at 400 MHz while the one found on the EN7800GT TOP Silent/2DHTV/256M hums along at 420 MHz, 10 MHz shy of stock GeForce 7800GTX speeds.
It is the memory where Asus did most of its clock speed magic, a standard GeForce 7800GT memory runs at an even 1 GHz. On the Asus EN7800GT TOP Silent/2DHTV/256M, the memory runs at 1.24 GHz ! That gives the Asus videocard almost 25% more memory bandwidth than a standard GeForce 7800GT!
All this is possible since Asus equips the EN7800GT TOP Silent/2DHTV/256M with 1.6ns GDDR3 memory. Sweet!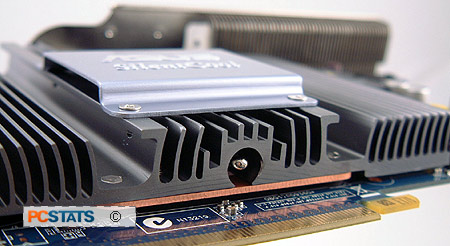 Of course just because the Asus EN7800GT TOP Silent/2DHTV/256M is already smoking fast doesn't mean it will be spared from PCSTATS overclocking tests.
Starting with the GeForce 7800GT's core first, the clock speed was increased in 5 MHz intervals with RivaTuner. The GeForce 7800GT core handled overclocking very well, and with the SilentCool heatsink was able to crack the 500 MHz barrier. It turned out that 503 MHz was the highest the core would do, anything higher and visible artifacts would start to appear.
Next up was the 1.6ns GDDR3 memory with its default clock speed of 1240 MHz. Things went a little more aggressively... we overclocked in 20 MHz increases. The GDDR3 memory easily passed 1300 MHz without breaking a sweat, but hit the wall just as quickly at 1360 MHz. Higher speeds were possible, but generated artifacts in certain 3D benchmarks.
The core and memory had no difficulty running together at the respective maximum overclocked speed of each. As you will see in the upcoming benchmarks, the Asus EN7800GT TOP Silent/2DHTV/256M is pretty darn fast!
Prelude to Benchmarks
The details of how the Asus EN7800GT TOP Silent/2DHTV/256M test system was configured for benchmarking; the specific hardware, software drivers, operating system and benchmark versions are indicated below. In the second column are the general specs for the reference platforms this GeForce 7800GT based videocard is to be compared against. Please take a moment to look over PCSTATS test system configurations before moving on to the individual benchmark results on the next page.

PCSTATS Test System Configurations