If you think Microsoft Windows XP was a memory hog of an operating system, you ain't seen nothing yet... At least that's what early indications of Microsoft Windows Vista are predicting. Vista, Microsoft's long delayed and highly anticipated OS is rumored to gobble up as much as 800 MB worth of random access memory all to itself when its massive selection of eye candy is enabled!
Vista is introducing a lot of graphically oriented menus and features that put such a strong demand on graphics cards. Videocard manufacturers are already letting consumers know if their videocard is Vista "Aeroglass" compatible. Add in a few applications or games like Battlefield 2 on top of all that and it's pretty obvious that 1GB of system memory is not going to cut it anymore.
Most of us who live in Microsoft land will have probably have to upgrade our computers if we want to use Microsoft Vista's prettiest features, and the first thing on that check list of upgrades is going to be system memory.
There are plenty of RAM manufacturers to choose from, but for this review we'll be focusing on a 2GB set of DDR-500 RAM from a company called Patriot Memory. Patriot has introduced some rather alluring modules this year; a few super high speed kits and even some nice low latency RAM. The latest Patriot Memory kit to pass through the PCSTATS test labs is the companies 2GB PDC2G4000ELK DDR modules (PC-4000), wrapped in bright red aluminum heatspreaders no less!

Patriot PDC2G4000ELK Memory
RAM Memory Type: DDR-500 / PC-4000
Individual Module Capacity: 1 GB
Native Speed & Latency: 250 MHz @ CAS 2.5-4-4-7
The Patriot Memory PDC2G4000ELK DDR kit is made up of two 1GB DDR-500 DIMMs which are rated to run at up to 250 MHz in a dual channel configuration, with CAS Latency timings of 2.5-4-4-7. The Patriot PDC2G4000ELK memory kit retails for $274 CDN ($240 USD, £135 GBP) , and that's on par with similarly paced RAM.
As you can see a set of custom red aluminum heatspreaders are used; at higher speeds and voltages the heatspreaders do a decent job at keeping the memory cool. If you end up running at stock speeds these are mostly serving a cosmetic duty. The heatspreaders are attached to the TSOP-II DRAM via double sided tape, not the best for thermal transfer but it gets the job done.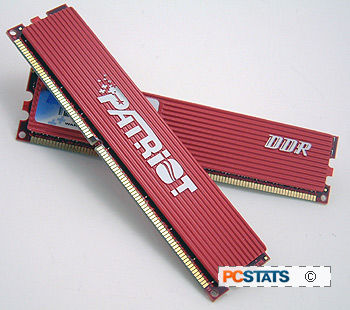 With a modest voltage increase to 2.8V, the Patriot PDC2G4000ELK memory is able to run at 250 MHz with 2.5-4-4-7 memory timings. It might not be the fastest memory out of the gate, but Patriot tends to underrate its modules on the whole, so it will be exciting to see what overclocking will yield...
PCSTATS Test Methodology
PCSTATS tests DDR memory on AMD Athlon64 systems only because Intel is still in the middle of moving its platforms over to DDR2. Enthusiasts usually keep to the bleeding edge, so fast DDR memory is useless for the Intel overclocker.
On AMD test systems, we're only interested in seeing how high we can go with the memory running 1:1, as running with other dividers puts the overclocking bottleneck elsewhere and not with the system memory. The DDR RAM latency must run at 2-2-2-5, or the memory's tightest possible timings, as quick access is more important to the CPU design. Just for arguments sake, we will also be conducting overclocking tests to see how high the memory will go with conservative timings (3-3-3-9), although we will only benchmark the system with the tight memory timings mentioned above. Let's get started!