It's great to see how individual memory stacks up against the competition under stock configurations, but we're also going to show how it compares when overclocked. With performance in mind, we're going to compare the maximum overclocked results of the various DDR2 DIMMs we've tested in the past which are listed below. Remember, just because memory is clocked fast doesn't mean it's the best thing for a computer. Timings are also important, and getting the right ratio of both is the real key to performance based overclocking!
Maximum Overclocked Speeds and Timings - PCstats Results

Intel System Results

Module Memory Size

Timings

Max Speed

Ranking

Buffalo FSX1000D2C-K2G
1024MB
5-5-5-10
1020 MHz
Patriot PDC22G8000+XBLK
1024MB
5-5-5-12
1020 MHz
Super Talent T800UX2GC4
1024MB
4-3-4-8
964 MHz
Corsair Twin2X1024-8000UL
512MB
5-4-4-9
957 MHz
Corsair Twin2X2048-6400 PRO
1024MB
5-5-5-12
935 MHz
Crucial Ballistix PC2-5400
512MB
5-5-5-10
860 MHz
PDP Systems Patriot PC-4200 DDR2 XBL
1024MB
5-4-4-9
765 MHz
PQI Turbo PQI25400-1GDB
512MB
4-4-4-12
730 MHz
Corsair Twin2X1024-4300C3
512MB
4-4-4-12
700 MHz
Crucial Ballistix PC2-4200
512MB
4-4-4-10
660 MHz
Mushkin PC2-4200
512MB
4-4-4-12
625 MHz
It's a shame that the Intel Pentium D 840 test system maxes out so quickly, still the Buffalo Technology FSX1000D2C-K2G memory is not the first DIMM tested that makes it too 1020 MHz. With a faster system, I think the Buffalo FSX1000D2C-K2G could fly...
2GB of lightning fast DDR2-1000!
If you think current generation systems require a lot of memory bandwidth, you haven't see anything yet. With the industry going towards parallelism, memory manufacturers have to ramp up memory speeds in order to keep up with the demand of multi-core processors.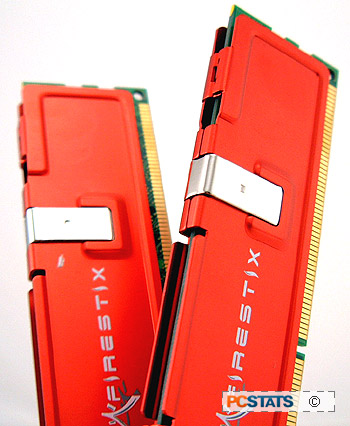 For the modern Intel Pentium D system, there isn't much better than Buffalo's 2GB FireStix FSX1000D2C-K2G DDR2 memory. It's not just lightning fast, with 2GB it's also ready for memory intensive applications/games like Battlefield 2 or Microsoft's Windows Vista.
Customer service is often an afterthought when buying computer components but it's great to know that Buffalo backs its products with a lifetime warranty. Should you run into trouble, Buffalo also has a 1-800 number for users to call which is easier to use than having to email them for service.
Saying the Buffalo FireStix FSX1000D2C-K2G memory is fast seems like an understatement and it performs as quickly as previously tested DDR2-1000 class memory from Patriot Memory. In every benchmark from 3DMark05 to Quake 4 and SiSoft Sandra, the Buffalo Technology PC2-8000 DDR2-1000 memory kept up with the likes of Corsair, Crucial and Patriot; pretty good company if you ask me.
In terms of overclocking the Buffalo FireStix FSX1000D2C-K2G is pretty quick hitting a top speed of 1020 MHz with 5-5-5 memory timings. For the low latency crowd, the memory can run at 925 MHz with 3-4-4 timings, the latter is great news for users looking for memory to use with AMD Socket AM2 Athlon64 processors's.
The Buffalo FireStix FSX1000D2C-K2G memory kit retails for about $419 USD ($460CDN, £226GBP), and can be found at Monarch Computers and NewEgg. If you need to get some quick DDR2, it's worth weighing the benefits of the Buffalo FireStix FSX1000D2C-K2G.
Find out about this and many other reviews by joining the Weekly PCstats.com Newsletter today! Catch all of PCSTATS latest reviews right here.
Related Articles
Here are a few other articles that you might enjoy as well...
- Patriot Memory PDC22G8000+XBLK PC2-8000 DDR2 Memory Review
- Super Talent PC2-6400 T800UX2GC4 DDR-2 Memory Review
- Crucial Ballistix PC2-4200 DDR2 Memory Review
- Mushkin HP3200 Redline PC3200 DDR Memory Review
- Introducing FB-DIMM Memory: Birth of Serial RAM?