The road towards the promised land of DDR2 hasn't always been smooth one, yet the benefits of this memory standard are in the middle of 2006, finally becoming very apparent To understand why computers have migrated from SD-RAM to Double Data Rate SD-RAM, and DDR-2-SDRAM, we have to acknowledge that modern computer architectures require a massive supply of memory bandwidth. Toss dual core processors into the mix and the CPU bandwidth essentially doubles yet again. When quad core processors are released, perhaps later this year or in 2007, you can bet bandwidth requirements will skyrocket once more. In order to equalize memory bandwidth requirements with supply, memory manufacturers have been rapidly releasing DDR2 memory modules which clock significantly higher than the PC2-6400 (DDR2-800) JEDEC standard. But is this really enough?
While memory manufacturers like Crucial, Kingston and OCZ have had a bit of a challenge ramping up 2GB DDR DIMMs speed, the same cannot be said with DDR2. In fact, the fastest DDR2 memory modules on the market are 2GB sets, talk about future proofing!
Interestingly enough, it's not the more commonly known enthusiast memory manufacturers that are pioneering high speed, high capacity memory, but rather the lesser known but equally capable manufacturers. The latest super fast DDR2 memory kit comes from Buffalo Technology, and boy is it smoking hot!
Buffalo Technology's 2GB PC2-8000 FireStix FSX1000D2C-K2G memory has a default clock speed of 1000 MHz (DDR2-1000), which when running in a dual channel configuration can provide up to 16GB/s worth of bandwidth. Not quite enough to feed a dual core Intel Pentium D or AMD Athlon64 X2 processor but it's pretty much the fastest memory available at the moment.
The interesting back story on these Firestix modules is that the Buffalo engineers veered away from the standard JEDEC design, and instead relied on the talents of Kazuyoshi Tsukada to develop the PCB trace layout. Kazuyoshi-san has been recognized by JEDEC for PCB design, and now heads the Melco Inc. PCB design team.

Buffalo FireStix FSX1000D2C-K2G DDR-2 RAM
RAM Memory Type: DDR2-1000 / PC2-8000
Individual Module Capacity: 1GB
Native Speed & Latency: 1000 MHz @ CAS 5-5-5-15
When running at 1000 MHz, the Buffalo Technology FireStix FSX1000D2C-K2G modules have CAS Latency timings of 5-5-5. Those are pretty loose even by DDR2 standards, but that is the norm for DDR2-1000 class memory. At lower clock speeds though, the memory is capable of running with much tighter timings.... and that is what really catches our eye, especially with AMD's AM2 processor on the horizon.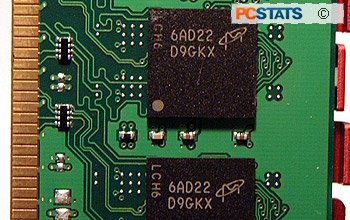 Buffalo shield the FSX1000D2C-K2G DDR2 DIMMs in bright red aluminum heatspreaders. As mentioned in previous memory reviews, at lower speeds heatspreaders do little in terms of cooling, at higher speeds they can make a little difference. Under the heatspreaders we find Micron 6AD22D9GKX DRAM.
Lifetime Warranty and Support:
You can often judge a manufacturer's confidence in its product by the length of warranty. Buffalo Technology offers a lifetime warranty on all of its memory, and supports the product through a toll free number: 1-800-934-2471. You will be greeted by a machine, but navigating through the company's phone system to reach a live tech support agent takes a couple seconds. In the event of an RMA, the company uses a second day courier service to put that memory back in your hands quickly.
Differences When Testing DDR-2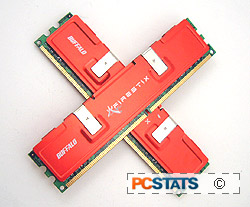 With dual core processors thrown into the mix, testing DDR-2 RAM is a lot more difficult than before. Socket 775 Pentium D processors do react positively to lower latency timings, but bandwidth is the bigger issue. This makes a lot of sense if we consider that an Intel Pentium D processor is essentially being dropped into Pentium 4 subsystems that was only really intended to support one processors' worth of memory bandwidth requirements.
Of course, this will all change once DDR-2 supporting AMD socket AM2 processors are released on the market. The AM2 is expected to follow in the footsteps of the Athlon64 and run will with low latency memory.
In PCSTATS own tests, even though the second core of a dual core processor sits idle for many benchmarks, bandwidth is still the primary issue with Intel Pentium D processors. The OS does communicate to the second core while the benchmarks are running, and so with that in mind when it comes to testing out DDR-2 memory modules we are currently only interested in seeing how high the memory can clock. When the AMD AM2 processor is released, latency timings will once again be the deciding factor.
Now, on with the overclocking and benchmarks!