Assembling a wicked gaming machine can be a challenging task, but realistically the most important device is the videocard - so focus your efforts there. Other parts like the processor, memory and motherboard must be up to snuff as well, but definitely get the fastest videocard you can and skimp elsewhere!
After all, there's nothing more frustrating than a PC choking when it matters most. Well, perhaps trying to explain what happened to squad mates or fellow clan members is worse but you get the idea... While it's true that a fast gaming computer will not make you a better gamer, it can give you a definitive edge when playing against others of a similar skill level with a lesser system.
You're lucky, right now ATi and nVIDIA both have competitive videocard GPUs available which mean prices on value videocards are at a low point. In the nVIDIA camp, the GeForce 7900GT is easily one of the most attractive cores on the market; not only is it lightning fast, at around $300 US it's an absolute steal.
Asus is a name I'm sure everyone is familiar with and it knows how to make an awesome videocard sweeter. At first glance, the Asus EN7900GT TOP/2DHT/256M/A looks like a normal GeForce 7900GT... Closer inspection shows that it is a highly tuned videocard that is faster than the average stock 7900GT.
The 256MB Asus EN7900GT TOP/2DHT/256M/A videocard is compatible only with PCI Express x16 slots so that means AGP users needs to get their fix elsewhere. The game comes with a large software bundle which includes a full copy of King Kong, two DVI to analog converters, a component output cable and a six pin molex power connector should your power supply not natively support the new generation of high powered videocards. The Asus EN7900GT TOP/2DHT/256M/A videocard retails for just $353 CDN ($320 US, £173 GBP) which makes it a great value!

Asus EN7900GT TOP/2DHT/256M/A




Includes:

Quick Setup Guide, Driver CD, PowerDirector CD, Medi@ Show CD, Manual CD, King Kong CD, Xpand Rally CD, VIVO/Component Out Break Out Box, DVI to Analog Converter
The Asus EN7900GT TOP/2DHT/256M/A is a rather plain looking and quite a bit smaller than the top of the line GeForce 7900GTX or even the older 7800GT/GTX. This means the Asus EN7900GT TOP should not have as much difficulty being installed in cramped cases or SFF PC's.
Wide screen LCD monitors are pushing the boundaries of DVI technology and you will be happy to hear that the Asus EN7900GT TOP/2DHT/256M/A comes with two dual link DVI connectors. Dual link DVI allows the videocard to run at super high resolutions, up to 2560x1600. Just think about two wide screen 30 LCD monitors running together, sweet! If that's not your cup of tea though and are still in CRT analog land, two DVI to analog converters are bundled with the videocard which allow for resolutions up to 2048x1536.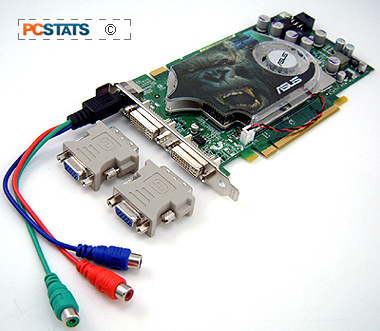 The Asus EN7900GT TOP/2DHT/256M/A can connect to the television via a couple of different methods, first is through S-Video, although Asus does not include a cable. Not to worry though, standard S-Video cables (like the ones that come with camcorders) will work just fine with the Asus videocard. The EN7900GT TOP/2DHT/256M/A also supports component output and comes with a Y, Pb, Pr pigtail connector for high definition televisions.
Built on TSMC's 90 nanometer manufacturing process, the nVidia GeForce 7900GT core does not generate as much heat as its GeForce 7800 brethren which is why the Asus EN7900GT TOP/2DHT/256M/A can get away with a compact single slot cooler.
The core and GDDR3 memory modules are cooled by the same aluminum heatsink, and it uses a small 40mm fan. The fan does not support RPM monitoring and always runs at 100%. It makes a moderate amount of noise but would probably be too quiet for one to notice when installed into a system.

Like all modern nVIDIA videocards, the Asus EN7900GT TOP/2DHT/256M/A is SLI compatible and the bridge connector can be found on the top left hand corner. Please note though that the EN7900GT TOP/2DHT/256M/A is clocked higher than the average GeForce 7900GT (520 MHz core/1.44 GHz memory) so this card will have to be downclocked when not used with an identical videocard. Mixing vendors is possible thanks to nVIDIA loosening up the SLI requirements.