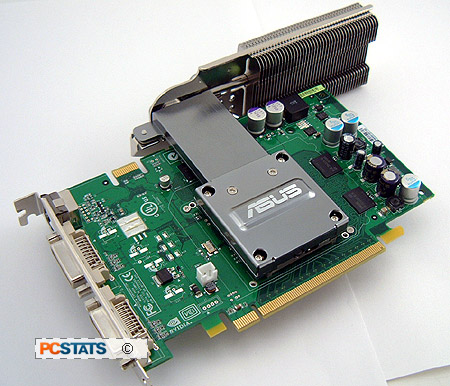 Hey you, sitting there at the desk. Ya you, I'm talking to you! I hear you've been thinking about upgrading your computer's videocard, but keep putting it off in hopes that nVIDIA will refresh its mainstream lineup. Well guess what, that time is now; there's no reason to wait any longer for mainstream graphics goodness. The nVidia GeForce 7600GT GPU is a very worthy successor to the GeForce 6600GT, and a cost effective solution for anyone shopping with a realistic budget.
Even though the clock speed of the nVIDIA GeForce 7600GT is only slightly faster than the GeForce 6600GT, adding those additional four pixel pipelines (12 in total) has greatly increased the 7600GT's rendering power.
Coupled with some super fast memory and it's no wonder the Asus EN7600GT Silent videocard has been able to rival the high end GeForce 7800GT in many benchmark game titles!
On the whole the Asus EN7600GT Silent/2DHT/256M/A is a very well rounded PCI Express x16 videocard. It boasts good 3D performance and multimedia output options (Y, Pb, Pr) in a completely silent package, employs a novel cooling solution, doesn't require extra power adaptors, and overclocks smoothly.
The Asus EN7600GT Silent videocard can be used in a whole host of situations where silent operation is of paramount importance, but of course this kind of innovation costs slightly more than the average GeForce 7600GT would. At $250 CDN ($221US, £120GBP) the Asus EN7600GT Silent is priced within the range of most gamers and it's great to see that GeForce 7600GT card can be had for less than what GeForce 6600GT videocards first retailed for.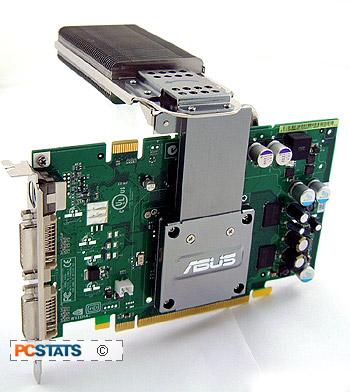 As you've seen with the benchmarks, Asus has a very quick mainstream videocard on its hands. Each time a GeForce 7600GT has passed through the PCSTATS test labs it has never failed to impress. High bandwidth tests, such as Shader Model 3.0 in Splinter Cell: Chaos Theory, Soft Shadows in FEAR and AA in general illustrate that memory bandwidth is the Asus EN7600GT Silent/2DHT/256M/A's Achilles heel.
That's not to say it's slow, but it's clear that the eye candy comes at a stiff penalty to frame rates, putting it for the most part out of reach of the Asus EN7600GT Silent unfortunately.
Even with a passive heatsink the Asus EN7600GT Silent/2DHT/256M/A's flair for overclocking was excellent. The Geforce 7600GT core and Samsung GDDR3 memory could run overclocked together at 635 MHz and 1596 MHz respectively. Overclocking did boost framerates with high performance features enabled, something you might want to keep in mind if you want the absolute highest quality eye candy at high resolutions.
If you're itching to upgrade the Asus EN7600GT Silent/2DHT/256M/A is definitely a sweet videocard; it's fast, it's silent and an excellent value. We haven't seen value like this in a long time and the GeForce 7600GT certainly has a bright future...
Find out about this and many other reviews by joining the Weekly PCstats.com Newsletter today! Catch all of PCSTATS latest reviews right here.
Related Articles
Here are a few other articles that you might enjoy as well...
- MSI NX7600GT-VT2D256E Geforce 7600GT Videocard Review
- Asus EN7900GT TOP/2DHT/256M/A Videocard Review
- Asus EAX1600XT Silent/TVD/256M/A Videocard Review
- S3 Chrome S27 PCI Express Videocard Review
- PowerColor X1600 XT Bravo PCI Express Videocard Review