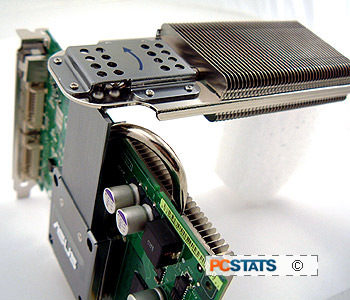 The Asus SilentCool heatsink is actually a single slot cooling solution, although it appears much larger and bulky than this when you look at the photos. The heatsink cools the Geforce 7600GT GPU only, and relies on entirely passive means for cooling within the computer chassis.
To this effect, the Asus SilentCool uses two heatpipes which bridge the GPU block to an array of cooling fins with swivel out at 90 degrees to the videocard. A second heatpipe dumps the remainder of the GPU heat produced at a block of cooling fins on the rear of the videcoard.
The GDDR3 Samsung memory does not require any additional cooling, and receives none.
The reason why this thermal solution works and is effective at cooling the Asus EN7600GT Silent videocard is all compliments of that swing-out section of cooling fins. Once installed in the videocard PCI Express x16 slot, the videocard will always be directly adjacent to the motherboard chipset and processor.
The Asus SilentCool is situation on top of the Asus EN7600GT Silent videocard, so in effect it hovers over both the graphics card and CPU heatsink.
When the cooling fins are rotated 90 degrees to the videocard they fall directly over the fan intake of the CPU heatsink. This orientation makes uses of the airflow generated by the CPU fan intake, and this is what passes over the SilentCool cooling fins to ultimately keep the Geforce 7600GT GPU running within acceptable operating temperatures.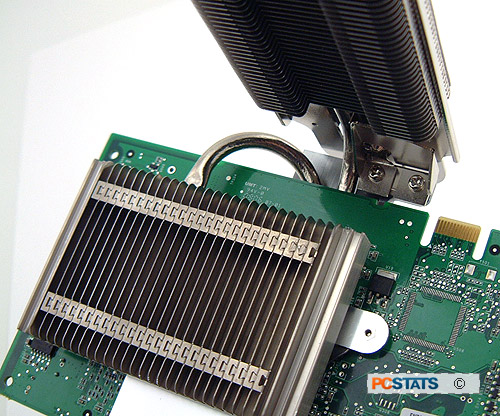 The second array of aluminum cooling fins on the rear of the Asus EN7600GT Silent videocard makes use of exhaust airflow from the CPU heatsink, or even north bridge heatsink for cooling.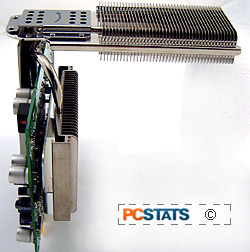 While the air from either of these locations is warm, it is still bound to be much cooler than the underlying graphics processor so the solution is an effective one. Most importantly, neither of these cooling areas on the Asus EN7600GT Silent videocard generate any noise of their own.
There is one caveat to all of this silent cooling however, if your computer uses water cooling, phase change cooling, or some other such solution where heat is removed to an alternate location the Asus EN7600GT Silent videocard is not the best videocard for your computer.
To operate properly, the Asus EN7600GT Silent videocard requires some airflow inside the case; it should be possible to augment a watercooled PC with appropriately located case cooling fans to move air over the Asus SilentCool thermal solution, but that does remove a little sheen from its totally silent marketing.
Anyhow, it's something to keep in mind if you're scouting out this videocard - it works silently but it does require some measure of airflow moving past its cooling fins to operate correctly.
For SLI configurations, the videocard in the the primary PCI Express x16 slot should have the heatpipe cooling fins angled at 90 degrees to the videocard. The second videocard should have the heatpipe running in the same direction as the PCB.