Overclocking Results:
As usual we started with the core overclocking first on the Asus EN7600GT Silent videocard. Clocked at 560 MHz the Geforce 7600GT GPU clock speed was increased in 5-10 MHz intervals within nVidia nTune. There are no third party tweakers that support overclocking nVIDIA's latest generation cards... so we're forced to use the latest version of nTune to overclock.
The GeForce 7600GT core is a pretty good overclocker in general and the Asus EN7600GT Silent/2DHT/256M/A easily broke 600 MHz core speed at the testing began. The core handled well and quickly hit a maximum speed of 642 MHz on its own. That's a pretty healthy overclock from a passively cooled GeForce 7600GT!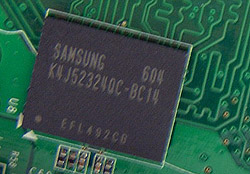 Next up was the 256MB of Samsung GDDR3 memory. The memory had the following markings: K4J52324QC-BC14. By default the GDDR3 memory is clocked at a brisk 1400 MHz, overclocking began with 5-10 MHz intervals that we hoped would lead us to some lofty heights...
Overclocking the memory was quite a pleasure as it cracked not just the 1500 MHz barrier... but also 1600 MHz mark! In fact the Samsung GDDR3 memory settled at a maximum speed of 1612 MHz which is pretty good for memory already running at 1400 MHz.
Unfortunately the Asus EN7600GT Silent/2DHT/256M/A could not run both the Geforce 7600GT core and memory at each parts respective maximum overclocked speed. After a bit of frustration the maximum the core and memory would run together without any issues was 635 MHz core / 1596 MHz memory.
Prelude to Benchmarks
The details of how the Asus EN7600GT Silent/2DHT/256M/A test system was configured for benchmarking; the specific hardware, software drivers, operating system and benchmark versions are indicated below. In the second column are the general specs for the reference platforms this nVidia GeForce 7600GT based videocard is to be compared against. Please take a moment to look over PCSTATS test system configurations before moving on to the individual benchmark results on the next page.

PCSTATS Test System Configurations