Overclocking Results:
With the Biostar TForce P965 Deluxe motherboard able to run on a 1066 MHz front side bus, that pretty much guarantees users at least 266 MHz FSB with a 200 MHz FSB based processor. Before starting to overclock, the memory was set to run in DDR2-667 MHz mode, this way it will not limit the motherboard's top speed.
Starting at 200 MHz, the FSB was increased in 2-3 MHz intervals. The Biostar TForce P965 Deluxe motherboard handled overclocking very well from the start, quickly reaching 234 MHz before the system started to show signs of instability. Increasing the CPU voltage to 1.425V solved these issues, and allowed us to continue overclocking.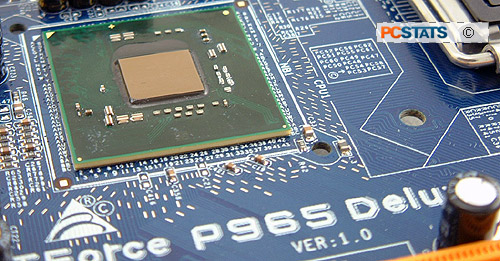 At 246 MHz FSB the Biostar TForce P965 Deluxe system had some instability issues, so the CPU voltage was bumped up to 1.45V to resolve this. After a few more attempts to increase the speed, the TForce P965 motherboard settled on a maximum speed of 253 MHz.
At this FSB the Intel Pentium D 840 test CPU was running at just over 4 GHz with air cooling! Most likely, the CPU was holding the system back from achieving a faster speed.
All this overclocking was done without having to increase either the northbridge or southbridge voltages, what we need is a 1066 MHz processor to see this motherboard really fly.

Overclocking Results:
We recently got an Intel Core 2 Duo E6600 processor for testing and you can bet we were interested to see how fast the Biostar TForce P965 Deluxe motherboard would go with this new processor. As usual before the motherboard testing got underway, the memory was first set to DDR2-667 so it would not hold the motherboard back.
Starting at 266 MHz the motherboard frequency was increased in 5-10 MHz intervals, yes I was a bit impatient. The Intel Core 2 Duo E6600 supports dynamic CPU clock multiplier adjustments so for most of the testing the CPU multiplier was running at 6x. The Biostar TForce P965 motherboard did pretty well and easily cracked the 300 MHz without any voltage increases.
At 325 MHz the Biostar TForce P965 motherboard started to give us a bit of trouble and needed its NB/SB voltage increased to 1.7V to keep things stable. That allowed the motherboard to reach just a bit higher and it maxed out at a top speed of 341 MHz. Anything higher and the motherboard would not boot into Windows. 341 MHz is definitely a decent speed and it's nice to see the new Intel P965 Express chipset overclock well.
BIOS:
The Biostar TForce P965 Deluxe motherboard uses an Award BIOS so it should be familiar to most of you who frequent PCSTATS. Please note that we only post pictures of the interesting BIOS sections, no one really cares about integrated peripheral options or boot devices do they? ;-)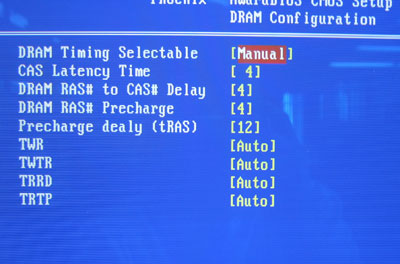 In the DRAM configuration menu you'll find the memory timing options. There are the usual CAS Latency, RAS to CAS and RAS Precharge options. There are also more advanced memory timing adjustments. If you're going to tweak memory, do so in small steps.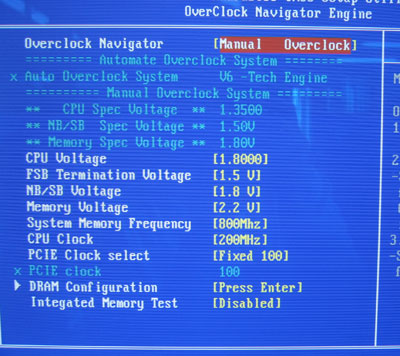 The Biostar TForce P965 Deluxe motherboard supports automatic overclocking but what fun is that? CPU voltage goes as high as 1.8V, Northbridge and Southbridge voltages can be adjusted to 1.8V, and DDR2 voltage to 2.2V. The FSB can be adjusted from 200-500 MHz in 1 MHz increments and you can select the following memory speeds, DDR2-533, 667 and 800 MHz.
Prelude to Benchmarks
The details of how the Biostar TForce P965 Deluxe motherboard test system was configured for benchmarking, including the specific hardware, software drivers, operating system and benchmark versions are indicated below. In the second column are the general specs for the reference platforms this Intel 965 based system is to be compared against. Please take a moment to look over PCSTATS test system configurations before moving on to the individual benchmark results. Tests were run with both the Intel Pentium D 840 and the Intel Core 2 Duo E6600 processors so you get an idea at how the processor choice will affect overall performance.

PCSTATS Test System Configurations
test system
reference system #2
reference system #3
processor:
intel core 2 duo e6600
amd athlon64 x2 5000+

intel Pentium D 840

Clock Speed:
9 x 266 MHz = 2.4 GHz
13 x 200 MHz = 2.6 GHz

16 x 200 MHz = 3.2 GHz

Motherboard:
Biostar TForce P965 DLX (P965)
ASRock AM2V890-VSTA (VIA K8T890)
Albatron KM51PV-AM2 (GF6150)
MSI K9N SLI Platinum (NF 570 SLI)
Asus M2-CROSSHAIR (NF 590 SLI)

Foxconn 975X7AA-8EKRS2H (975X)
Foxconn 955X7AA-8EKRS2 (955X)
Foxconn 945P7AA-8EKRS2 (945P)
MSI P4N Diamond (NF4 SLI)
Biostar TForce P965 DLX (P965)

Videocard:
MSI NX7800GTX-VT2D256E
Memory:

2x 1024MB CorsairTwin2X2048-6400C4

Hard Drive:
74GB Western Digital Raptor WD740
CDROM:
AOpen Combo 52x
PowerSupply:
PC Power & Cooling TurboCool 510 SLI
Heatsink:
Intel EE6600 Refernece
Athlon64 FX-62 Reference
Thermaltake Jungle 512
Software Setup:

Microsoft WindowsXP SP2
Intel INF 7.22
nVIDIA Forceware 91.47

Microsoft WindowsXP SP2
nVIDIA Forceware 9.35
nVIDIA Forceware 91.47

Microsoft WindowsXP SP2
Intel INF 7.22
nVIDIA Forceware 7.22
nVIDIA Forceware 91.47

Benchmarks:

SYSMark 2004
Business Winstone 2004
Content Creation 2004
Super Pi
SiSoft Sandra 2005
PCMark05
3DMark05
3DMark06
FarCry
Doom 3
Quake 4